10 Must-Have #RelationshipGoals from History's Most Enviable Couples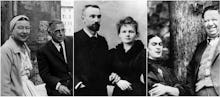 There's nothing quite as heartening as scrolling through the hashtag #RelationshipGoals on Instagram or Twitter and seeing the lovely couples partaking in enviable couple behavior: diving into a shared pizza, flaunting sneakers at their wedding, and posing for silly selfies.
But Internet-age couples aren't the only ones with admirable, empowering and — let's face it — aspirational relationships. We can learn a thing or two from historical literary icons, legendary physicists and award-winning actors who exceeded all expectations of romance with their unconventional, deeply devoted love. 
In a world that sometimes feels adrift in uncomfortably high divorce rates, online dating fatigue and an ever-widening pool of singles, we could all use a reminder that inspiring romances are possible. These are our #TBT #RelationshipGoals.
John and Abigail Adams
#RelationshipGoal: Be in constant communication.
This couple maintained a prolific personal correspondence of over 1,100 letters, many sent during the Revolutionary War. In the letters, the second president of the United States and the bright first lady engaged in fiery political debates, discussed national affairs and deliberated personal matters. The correspondence kept the relationship alive through a long courtship and wartime separation. 
Through all those years, Abigail acted as John's unofficial adviser, advocating hard for him to fight for women's rights in the new government. In March 1776, she famously wrote, "I desire you would Remember the ladies, and be more generous and favourable to them than your ancestors. Do not put such unlimited power into the hands of the Husbands." Amen.
Amelia Earhart and George Putnam 
#RelationshipGoal: Give each other the freedom to make your own choices.
Putnam reportedly proposed to Earhart six times before she said yes. When they did marry in 1931, their wedding ceremony lasted all of five minutes, and Earhart had banned the word "obey" from their vows. 
Most progressive of all was a prenuptial letter Earhart sent to Putnam, telling him that she was reluctant to marry in case their relationship got in the way of her work, which was her top priority. "On our life together I want you to understand I shall not hold you to any medieval code of faithfulness to me nor shall I consider myself bound to you similarly," Earhart wrote. She concluded that if they weren't still happy in a year, Putnam should let her go. 
According to the Huffington Post, the ever-supportive Putnam was more than OK with the agreement.
Frida Kahlo and Diego Rivera
#RelationshipGoal: Don't give up when things get rocky.
The two prodigious Mexican artists were known for their passionate, turbulent relationship. First marrying in 1929, the couple split in 1939 after many affairs (on both sides). But the muses couldn't keep apart. A year after their divorce, the couple got back together and tried to accept infidelities as a part of their marriage. It might have been a rocky relationship, but they worked to make it last.
Gertrude Stein and Alice B. Toklas 
#RelationshipGoal: Never stop being playful.
When Stein and Toklas first met in Paris in 1907, it was an instant connection. The two were quick to move in together at the famed 27 rue de Fleurus, where they hosted legendary salons that attracted the likes of Henri Matisse and Pablo Picasso. The two remained together for 39 years (Stein was known to call Toklas her "wifey" and "baby precious.") Not too shabby.
James Joyce and Nora Barnacle
#RelationshipGoal: Maintain the spark with endless sexting.
If you want to know what early 20th century sexting looked like, look no further than the correspondence of Joyce and his future wife Barnacle. On their first date, when Joyce was 22 and Barnacle was 20, Norah supposedly unbuttoned his pants and initiated sexual contact, according to the New York Times. The pair's chemistry apparently got the creative juices flowing, because during their time apart, Joyce would send Barnacle the dirtiest of letters, like this one:
"My prick is still hot and stiff and quivering from the last brutal drive it has given you when a faint hymn is heard rising in tender pitiful worship of you from the dim of cloisters of my heart." 
Simone de Beauvoir and John-Paul Sartre 
#RelationshipGoal: Set your own rules.
Before consensual nonmonogamy was in vogue, the intellectual duo of de Beauvoir and Sartre took a stab at a nontraditional relationship. The two would work alongside one another in cafes but kept separate living quarters and never married. 
"What we have is an essential love; but it is a good idea for us also to experience contingent love affairs," Sartre told de Beauvoir early in their relationship in 1929. The unorthodox relationship between the Second Sex author and the famed philosopher lasted 50 years.
Joanne Woodward and Paul Newman 
#RelationshipGoal: Keep each other laughing.
Against all Hollywood odds, the two acclaimed actors made their marriage last for 50 years until the time of Newman's death in 2008. Newman once famously said, "Why fool around with hamburger when you have steak at home?" 
What was the key to making that last? In 2002, the couple sat down with NBC and Woodward revealed, "If you can make somebody laugh, then that's very important. And he sure does keep me laughing." 
Anaïs Nin and Henry Miller 
#RelationshipGoal: Let your personal passions fuel your passion for one another.
In 1932, the influential writers first began their love affair (they were each married at the time) that would inspire a prolific and passionate correspondence. At the beginning of their affair, Miller wrote an impassioned letter to Nin: "Here I am back and still smouldering with passion, like wine smoking. Not a passion any longer for flesh, but a complete hunger for you, a devouring hunger." The two literary forces went on to both criticize and influence each other's work profoundly.
Marie and Pierre Curie 
#RelationshipGoal: Keep making each other better.
First meeting at the Sorbonne while Marie was a student, the Curies are the definition of a symbiotic relationship. While Pierre was an accomplished physicist, it was only after their serendipitous lab meeting that the two went on to jointly win the 1903 Nobel Prize for Physics for discovering radioactivity. "Our work drew us closer and closer, until we were both convinced that neither of us could find a better life companion," Marie once said.
Johnny Cash and June Carter
#RelationshipGoal: Never forget how lucky you are.
The legendary country singer proved that enduring love comes with its ups and downs (he proposed to her on stage), but his 35-year marriage to his performance partner Carter was one for which he was forever grateful. In a letter penned to Carter on her 65th birthday in 1994, Cash took stock of what made their relationship work:
"We get old and get used to each other. We think alike. We read each others [sic] minds. We know what the other wants without asking. Sometimes we irritate each other a little bit. Maybe sometimes take each other for granted.
Swoon.