15 Striking Photos Reveal What a Victory Against ISIS Looks Like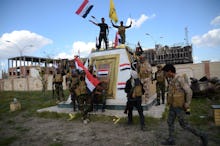 When the Iraqi military claimed it would swiftly force the Islamic State group to give up control of the Sunni city of Tikrit, they probably didn't expect the battle to last quite so long before finally claiming victory.
But the Iraqi government announced Wednesday it had pushed insurgents out of the city, reclaiming the city of Saddam Hussein's birth and a key strategic position in relation to the Islamic State group's northern Iraq base in Mosul.
"Most of Tikrit today is liberated," Interior Minister Mohammed al-Ghabban said, according to Reuters. "Only small parts remain [outside our control]. We will give you the good news in the next few hours after eliminating the pockets that are still in the city."
The battle: After incurring heavy casualties attempting to breach the city, Iraqi military forces and Iranian-led Shiite militias had to stall their war efforts in mid-March. This stemmed from what U.S. commanders called "poor overall planning," reports the Washington Post. According to U.S. commanders, Iranian leaders were trying to keep the U.S. out of the fight, but the lack of intelligence or firepower needed to smoke the Islamic State out of its holdings made it difficult to push forward.
Eventually the stall ended when Iraqi Prime Minister Haider al-Abadi requested U.S.-led airstrikes against the city last week, pounding IS fighters until Iraqi and Shiite forces were able to resume.
While the city has been liberated and brings the Iraqi military closer to reclaiming its country, the battle for Tikrit left the city broken and scarred, a war zone in the extreme sense of the word. And while it seems like this is the time to rebuild, there isn't much time to breathe. The Islamic State threat from Mosul looms nearer — now, only 140 miles away.