How 'Furious 7' Finished Filming While Respecting Paul Walker's Memory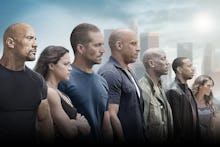 When there's $250 million on the line, losing one of your franchise's stars in the middle of a film's production isn't just tragic, it's terrifying. Yet for the Furious 7 team, the show must go on.
The challenges of finishing the project were myriad. Even if the studio figured out a way to film the rest without star Paul Walker after his death, how could producers keep the tone from skewing funereal? How could using body doubles to fill in shooting gaps be anything but tacky?
Furious 7 deserves praise: The cast and crew have dug in and delivered a product that's making audiences emotional while paying Walker proper tribute. It's nothing short of a grand slam, all thanks to production and PR teams that made decisions from the heart every step of the way. 
First, the body doubles: Instead of just using lookalikes, director James Wan cast Walker's brothers Caleb and Cody. Not only was this practical — who better to fill in gaps than people who look like your star? — it also gave the immediate impression of familial approval.
In fact, the franchise is about family. In his statement about casting the brothers, Wan repeatedly used the word. Caleb and Cody are now part of the family. "Having them on set has made us all feel that Paul is with us too," Wan said, according to CinemaBlend. It's both good marketing and likely a truth for the team. Through the seven Fast and the Furious films, it's impossible to imagine these people not growing together.
The character stays in the family. Instead of killing off Walker's Brian O'Connor, he would simply "retire," preserving both his character and Walker's memory for fans. It's the kind of ending that's resulting in emotional theater exits for movie-goers.
It also fits the PR narrative of Furious 7 as a film that is ultimately both an extension of the franchise and a tribute to its fallen star. With its tagline "One last ride," this has been a pretty consistent message for months. Couple that with the Walker-centric, black-and-white posters and Furious 7 feels like a powerful and loving wake.
The idea of honoring Walker with this final installment dates back to last April, when his in-series wife and real-life co-star and friend Jordana Brewster paid tribute to him at the MTV Movie Awards.
Vin Diesel keeps driving the rest. The franchise star clearly treasured Walker as a friend and a partner in the series. He's taken charge of paying homage to Walker and is approaching the franchise with more energy than ever. 
Diesel has given emotional speeches about Walker and even named his daughter after his late friend. Thanks to him, and to everyone involved giving their best effort, Furious 7 is on its way to being both a commercial and critical smash.
Walker's death remains a tragedy, but watching this team rally in the face of hardship has been incredible. The Fast and Furious was already known as a franchise that grew with each installment, but with Furious 7, what could have been a dour or sad occasion has become a celebration of a life. That makes total sense for a series like The Fast and Furious: Since it has to be the last ride for Walker, it should be the best one.