A New Play About Ferguson Will Put Officer Darren Wilson's Fate in the Audience's Hands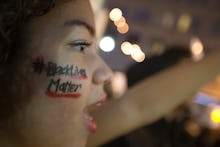 A new play seeking crowdfunding now is all about reliving the past — the past in question being the Darren Wilson grand jury trial. 
Using testimony and evidence from the trial, its writer seeks to tell the truth about what happened during the shooting of Michael Brown. But Ferguson, set to be staged in Los Angeles' Odyssey Theater for four nights (contingent on funding), doesn't just rehash the trial that let Brown's killer go free. Provocatively, it puts the power to indict Wilson in 15 audience members' hands.
Phelim McAleer, a conservative Irish journalist and documentarian whose previous films include FrackNation and an IndieGoGo-funded film about abortion doctor Kermit Gosnell, wrote the play because, as he told Deadline, "bringing the truth to life" is his passion as a journalist. 
"It's going to be a dramatized stage reading," McAleer told Bloomberg of Ferguson. "Witnesses are going to describe what happened, just as they described it in the grand jury room. We're going to have cast at least 13 people, playing 20 different characters." 
Not included in that cast: Michael Brown, since "he didn't give evidence before the grand jury" after being shot and killed by Wilson.
"It'll be a controversial project, but the truth needs to be seen and heard," McAleer said in the project's IndieGoGo trailer. He's understating when he says "controversial." After all, this is the trial that caused several rounds of protests and riots not just in Ferguson, Missouri, but across the country. 
The danger of interactive theatre: Unfortunately, while the goal may seem admirable, this play is an experiment in audience participation that is destined to fail. Though McAleer told Bloomberg that he has no agenda when it comes to the play, that he just wants to tell "the truth," this project feels like a powder keg ready to reignite racial tensions. 
What's to be gained from this? Truth can be interpreted in different ways by different people, and the idea that everyone will have the same reaction is ridiculous. If there's really no agenda here, this feels like an exercise in futility at best and an incredibly frustrating provocation of the past at worst.
The playwright's goals as to what he wants out of this may be shrouded, but his ambitions for the play itself are clear-cut. "If this is successful in Los Angeles I want to take it on the road, then to Ferguson," he told Bloomberg. With less than 10% of its funding complete and 31 days to go, Ferguson has a long way to go until it can even get to Los Angeles.