One Mom's Major Victory in the Fight to Treat Low-Income Autistic Children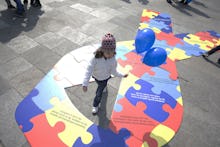 Moms know how to get things done.
While some states have rightly demanded that insurance companies stop denying health care coverage to low-income children with autism, Minnesota had failed to fully help families afford early autism treatment strategies — that is, until a week ago, when the tireless efforts of one courageous mother to get her family the coverage it deserves finally paid off. 
Idil Abdull, a Somali immigrant and mother to a 12-year-old autistic boy, made more than 50 trips to the state capitol over five years to protest the fact that low-income Minnesotan families were unable to access intensive, early intervention autism therapies through the state Medicaid program. Their wealthier counterparts gained the same after petitioning for state coverage, the Star Tribune reported. Abdull's request that her state fund a health plan enabling access to these therapies was finally granted last week, and now the 1 million poor and disabled Minnesotans who receive aid through Medical Assistance have access to these treatments, according to the Star Tribune. 
"I wore them down," Abdull told the Tribune. "I let my emotions for my son and for the thousands of other poor kids with autism drive what I was doing."
The expense of these treatments, which the Star Tribune reports will cost Medical Assistance approximately $15 million in the first year, is hardly unusual. An autistic individual's care can cost more than $2 million over a lifetime, according to a 2014 study.
The expense of early intervention treatment could pay off in the long run. Human services commissioner Lucinda Jesson told the Star Tribune that access to such treatment is "a game-changer for a lot of children and their families," because "if we can get [children] diagnosed earlier and get them services earlier ... then we can change the trajectory for a lot of these children's lives."
With Thursday being Autism Awareness Day, it's important to consider the many obstacles autistic individuals and their caregivers face on a daily basis — from expressing their basic needs to navigating the world around them. There is clearly still much to learn about the disorder and treatments to be developed, but Abdull's advocacy — and Minnesota's subsequent funding — indicate meaningful progress.
h/t Star Tribune