Kendrick Lamar's "King Kunta" Video Is Absolutely Incredible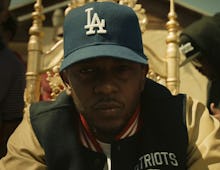 On Wednesday afternoon, Kendrick Lamar announced on Twitter that he'd debut the video for "King Kunta" off his latest album, To Pimp a Butterfly. But this wasn't just any debut — "King Kunta" played live on the Beats by Dre billboard in the heart of Times Square and at Los Angeles's LA Live entertainment complex. 
For those who missed the shows last night, there's good news: the kick-ass video for "King Kunta" is now available online. It shows Lamar cruising the streets of Compton, chilling and dancing with friends in his driveway and, at the end, claiming his gold throne.
Watch the incredible video here:
Parts of the video show Lamar dancing on the roof of the Compton Swap Meet, a place where he spent a lot of time growing up.
"I've been going to the swap meet my whole life," Lamar told Complex. "As a kid, that's where I used to get all my cassettes, all my CDs. My pops, too — he'd buy music. I'd get my Nikes there. You might see Suge Knight, other folks from Compton." 
Compton is the main character in the "King Kunta" video and a huge part of the album as a whole. Much of the record addresses Lamar's feelings of responsibility to uplift and adequately represent his hometown. But the title of "King Kunta," according to the Daily Beast, comes from the name of the slave of Gambian descent, Kunta Kinte, who was the basis for the '70s TV miniseries, Roots. Lamar uses that framework to call out the laziness of most rappers, who fail to deliver in earnest to their audiences: "Most of y'all sharing bars like you got the bottom bunk in a two man cell."
"Nested in his powerful revival of the Kunta Kinte figure from Roots, Lamar tears down cookie-cutter rappers telling the same stock prison story," Tom Barnes wrote for Mic in March. "All those rappers are sharing bars — cell block bars and lyrical bars — like they're trapped by their own weak concepts."
The video for "King Kunta" is a vision of Lamar's roots. He takes us through a day in Compton, where the good-time visuals contrast the darkness underlying the song. 
"If the world was happy, maybe we'd give you a happy album," Lamar told Rolling Stone. "But right now we're not happy."
"King Kunta" is about the closest to "happy" that Lamar gets on To Pimp a Butterfly. Still, the video isn't as simple as it seems, a true feel-good party shoot; it's a conflicted homage to the place that made Lamar who he is, good and bad. Like everything else on To Pimp a Butterfly, there's more to it than meets the eye.