Rejoice! The TSA Finally Agrees to Stop Racially Profiling Your Hair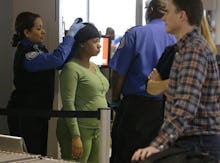 Afro-discrimination is no longer sanctioned by the Transportation Security Administration. At least, that's the latest development after the TSA and the American Civil Liberties Union negotiated an agreement to stop "unnecessary, unreasonable and racially discriminatory hair searches," which typically target women of color, at airports.
The agreement resulted from a second complaint the ACLU filed against the TSA in January on behalf of Malaika Singleton, whose sought recourse after her hair was searched at two different airports in 2013. 
"The humiliating experience of countless black women who are routinely targeted for hair pat-downs because their hair is 'different' is not only wrong, but also a great misuse of TSA agents' time and resources," Novella Coleman, staff attorney of the ACLU of Northern California, said in a press release last week. Coleman was the plaintiff of the first complaint against the TSA for the very same issue, back in 2012.
As Tara Culp-Ressler wrote at ThinkProgress, "singling out black women for their hair is a microaggression that ultimately speaks to larger cultural assumptions about how 'proper' women are supposed to look." As Melissa Harris-Perry recounted on her MSNBC show about her experience with the TSA, "I was sent on my way feeling a little violated and unclear about why, exactly, that intrusion was necessary. Because if your $170,000 machine can see under my clothes, but can't figure out I'm not hiding a bomb in my braids, maybe it's time to recalibrate the machine."
Over the years, plenty of other women have taken to social media to vent their frustrations about the practice:
The recent news that the TSA was stopping their profiling of black and brown women's hair was very welcome news: