Get Ready to Relive Your Childhood With This Device That Turns Your iPhone Into a Game Boy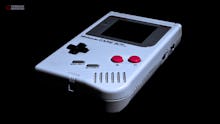 Nintendo may be developing new games for smartphones, but a third-party company is developing a way for you to play the classics on your phone instead.
As the Daily Dot reported (after discovering the project on Reddit), a gaming peripheral development company called Hyperkin is in the process of creating the Smart Boy, a device that will allow you to plug and play Game Boy cartridges on your iPhone. The project, originally planned as a joke but now actually in development, is a nudge at what Nintendo should be doing to appeal to nostalgic smartphone users: Put games like The Legend of Zelda and Pokémon back in everyone's pockets.
The Smart Boy closely resembles the bottom half of the original Game Boy: a directional pad and buttons for A, B, start and select, plus a speaker. On the back is a slot to insert your favorite original games — start blowing on that Pokémon Red cartridge now.
For the screen, the user's iPhone slots into the front, nestled into the peripheral, automatically creating a high-definition screen for all your favorite classics. The games will be accessed via a Smart Boy app.
"We wanted to create a retro device that can be easily adapted into any modern gamer's arsenal of devices," Hyperkin product developer Chris Gallizzi said in a press release.
While there's no release date set for Smart Boy yet, we do know it will be for just one device when it does come out: the iPhone 6 Plus. Though Hyperkin is experimenting with other phones, including Android and Windows phones, as reported by the Daily Dot, the iPhone 6 Plus version will be the debut model. 
It's no longer a fan pipe dream: Nintendo will really be available for your iPhone soon. Of course, considering you need to have the old game cartridges (and a specific type of iPhone, for the time being), it's not an ideal solution. 
Hopefully, the development of Smart Boy and other peripherals like it will prompt Nintendo to realize what should be obvious — fans want remakes of old games for the phones they already carry around with them daily. Smart Boy might be the first step, but there's many still to come.
And hopefully they will happen quickly. Because how long can you really hold out before you need this in your life again?