This Is What Indiana Lawmakers Are Doing to "Fix" Their Anti-Gay "Freedom" Law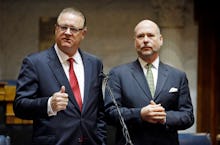 Republican lawmakers have revealed their plan to "fix" Indiana's controversial religious freedom law, hoping to repair the damage done to the state's reputation across the country.
"The healing process starts today and I hope that's heard loud and clear," state Senate president pro tempore David Long (R) said Thursday morning at a press conference in Indianapolis.
The proposed amendment to Republican Gov. Mike Pence's "Religious Freedom Restoration Act" adds language specifically forbidding business owners from refusing to "provide services, facilities, use of any public accommodations, goods, employment, or housing to any member or members of the general public on the basis of race, color, religion, ancestry, age, national origin, disability, sex, sexual orientation, gender identity, or United States military service."
The changes have not yet been voted on by Indiana lawmakers, who debated the language — with Democrats calling for full repeal of the law — in a contentious conference committee on the House floor.
Pence requested the legislature draw up the additional section after a public outcry, headlined by damning condemnations from the NCAA, which is preparing to host its men's basketball Final Four in Indianapolis but has threatened to move future events. Apple's Tim Cook, who spoke publicly about being gay in October, has repeatedly criticized the law on Twitter and in an op-ed for the Washington Post.
Mayors in San Francisco, Seattle, Portland, Denver, Washington and New York City, along with governors from Connecticut, New York, Washington state and Vermont, have instituted bans on state-sponsored travel to Indiana. Businesses like Angie's List — which earlier Thursday called the new language "insufficient" — and others have either threatened to slow or cut off commerce. On Monday, the band Wilco canceled a May 7 show, saying the law "feels like thinly disguised legal discrimination."
Top Indiana Republicans on Thursday continued to deny RFRA was crafted with that intention. The law "does not allow discrimination against anyone, anywhere at anytime," Long said, blaming the media and critics for creating "the perception that ... caused us to be here." 
But statehouse Democrats remained unsatisfied. 
"I want to hear somebody here say we made a grave mistake," state Rep. Scott Pelath said during the committee meeting. "I want to hear one of the proponents fess up, because the healing cannot happen until then." He is arguing for repeal of the law and civil rights legislation that would add LGBT citizens to the ranks of protected classes.
That is unlikely, but the passage of the "fix" will represent a significant defeat for the anti-gay lobby and its benefactors in Republican-controlled statehouses and governor's mansions. The new version of the Indiana law will include the state's most significant protections for LGBT Hoosiers, who do not enjoy protected status in the state constitution.