The First Trailer for the Amy Winehouse Documentary Is Finally Here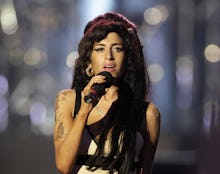 "I don't think I'm going to be at all famous. I don't think I could handle it. I would probably go mad, do you know what I mean? I would go mad."
Amy Winehouse says these sadly foreboding words over the haunting teaser trailer for the upcoming documentary, Amy, detailing her life and struggle with superstardom. The trailer, released Thursday morning, sets the tone for the upcoming full-length documentary due July 3 in the U.K. The film is directed by British filmmaker and BAFTA award-winner Asif Kapadia; based on the trailer, Amy is sure to tug hard at the heartstrings of the deceased singer's fans. 
British crooner Winehouse died in 2011 of alcohol poisoning, making her a member of the morbid 27 Club. Before her untimely death, Winehouse won six Grammys and released two albums, Frank and the hugely important Back to Black. But she struggled with alcoholism and drug abuse, and her demons caught up with her as fame became more and more difficult to handle. 
In a statement on the movie's Facebook page, director Kapadia and producer James Gay-Rees write, "Amy was a once-in-a-generation talent who captured everyone's attention; she wrote and sang from the heart and everyone fell under her spell. But tragically Amy seemed to fall apart under the relentless media attention, her troubled relationships, her global success and her precarious lifestyle. As a society we celebrated her huge success but then we were quick to judge her failings when it suited us."
The movie, according to MTV, will focus on Winehouse as a young woman whose interest in music started very early, followed by her sudden rise to stardom. The much-anticipated film looks like it'll pull no punches in laying bear the truth. Winehouse deserves a thoughtful, insightful documentary, and Amy promises to be just that.
h/t Noisey