Photos Show Terrorist Group Al-Shabab's Attack on Kenyan University That Left 147 Dead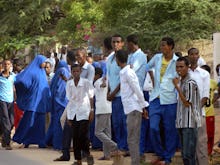 Five Al-Shabab gunmen stormed dormitories in Garissa University College in southeast Kenya early Thursday, originally leaving at least 15 people dead and another 65 seriously wounded. By later in the day, the Kenya National Disaster Operation Center confirmed the death toll was 147.
The Associated Press reports the shooting eventually stopped as it devolved into a hostage situation in which Christian students were being held while Muslim students were being released.
"All I could hear were footsteps and gunshots nobody was screaming because they thought this would lead the gunmen to know where they are," Collins Wetangula, the vice chairman of the student union who was about to take a shower when the raid began, told the Associated Press. "The gunmen were saying 'sisi ni al-Shabab' (Swaihi for 'we are al-Shabab')."
Wetangula described how the gunman went from room to room asking students about their religion. "If you were a Christian you were shot on the spot," he said, according to the Associated Press. "With each blast of the gun I thought I was going to die."
Some students escaped, reportedly running and crawling out of buildings, while heavy fighting continues between al-Shabab and police. It is unclear how many students are still trapped inside. 
Al-Jazeera reports that Sheikh Ali Mohamud Rage, the group's spokesman, spoke to Agence France-Presse by phone, claiming responsibility for the attack and saying Kenya had been targeted for "its involvement African Union mission against al-Shabab in Somalia."
Who are al-Shabab? Al-Shabab, translated as "the Youth" in Arabic, are a Somali Islamic extremist group that has links to al-Qaida and is regarded as a terrorist organization by the U.S. and much of the rest of the world. The militants gained a lot of media attention after their 2013 attack on a Nairobi mall that left dozens dead.
According to the Council on Foreign Relations, Osama bin Laden and his al-Qaida network helped to set up al-Shabab in the early 2000s, and the two organizations have remained affiliated ever since.
Al-Shabab has been fighting the internationally recognized government for control of nearby Somalia. While the African Union drove the group out of the capital city of Mogadishu in 2011, the BBC explains that the militia maintains authority over many rural areas in Somalia, where they enforce strict Sharia. 
The group has also been able to maintain a stranglehold on area operations through successful self-financing. Their tax system of collecting money, crops and livestock from powerless locals, "generates between $70 [million] to $100 million per year," reports the New Republic.
Extending their reach. In the wake of Thursday's attack and given the nature of the incident, CNN notes al-Shabab seems to be shifting from the kind of all encompassing Islamic State-type group in Somalia to a more "classic terror group," that is "targeting soft targets in Kenya."
In March 2014, al-Shabab called on Somalis to take on neighboring Ethiopia, which had angered the terrorist group after invading Somalia in 2006 and ousting the rebels from Mogadishu. Ethiopia also contributed troops to the 2007 African Union Mission, which formed to protect the fledgling transitional government.
If al-Shabab, with their terrorist status and links to al-Qaida, continue to target their neighbors, a regional conflict could easily be triggered, leading to further external military intervention in Somalia. Ethiopia has done it once before and, if provoked, would likely do it again. Similarly, it is unlikely that Kenya will stand idly by if al-Shabab carries on with their intermittent insurgencies. 
By Thursday afternoon, the White House Press Secretary released a statement, condemning the attacks. "We extend our deep condolences to the families and loved ones of all those killed in this heinous attack... The United States is providing assistance to the Kenyan Government, and we will continue to partner with them as well as with others in the region to take on the terrorist group al-Shabaab. The United States stands with the people of Kenya, who will not be intimidated by such cowardly attacks."
Given America's myriad involvements with military operations against a medley of Islamic extremists, from the Islamic State group to Yemen, we must prepare for the possibility that the U.S. could get involved in some capacity too. 
4/2/15, 3:32pm: This article has been updated.