How YouTube Superstar Grace Helbig Can Make Her E! Talk Show a Success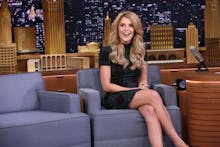 Can YouTube stars become TV stars? That's the gamble E! is taking with The Grace Helbig Show, debuting at 10:30 p.m. Friday.
Starring comedian and vlogger Grace Helbig, known primarily for her wildly popular YouTube channel with over 2 million subscribers, the new show is a reinvention of the talk show model. Instead of filming in front of a live audience, the show will take place at different locations. And there will still be guests, but they won't just be the celebrities making the rounds for publicity tours.
It's an interesting experiment. Helbig is substituting the staid and formulaic for trying new things. Considering her much younger audience that prefers their entertainment in five-minute daily vlogs, innovation is the right move. But this is a late night world that still isn't friendly to women. 
Helbig faces plenty of barriers to making The Grace Helbig Show a hit — and she could learn plenty from the women who tried before her.
The MTV attempt: In 2013, comedians Nikki Glaser and Sara Schaefer tried their hands at producing and hosting their own late night talk show. Nikki & Sara Live, which aired for half an hour on Tuesdays, was compared to "a slumber party with friends" by Jezebel. Theoretically, that should have been a benefit. A casual vibe with hosts a younger audience would see as "cool" feels like the right fit for MTV's audience.
It wasn't. Nikki & Sara Live lasted for two seasons of 12 episodes each. It was canceled less than a year after it premiered.
Nikki & Sara Live should serve as an eye-opening example for Helbig. Though MTV's show filmed in front of a studio audience, it's going for the same demographic. True, Helbig is bringing over her own fans from YouTube, but Nikki & Sara Live couldn't make the casual vibe work on a Tuesday night. Where is Helbig's audience of teens and tweens on a Friday night? Moreover, why didn't E! learn their lesson with Chelsea Handler's show?
The Handler connection: The easiest comparison for The Grace Helbig Show would seem to be Chelsea Lately. After all, Handler was also a host on E! and made her success on being a lighter, younger, female alternative to the boys of late night. Yet with a panel format and traditional, sit-down celebrity interviews, Chelsea Lately is less of a fair comparison than it seems. The truly apt comparison is to Lately's predecessor: The Chelsea Handler Show.
Think of The Chelsea Handler Show as a rough draft of Chelsea Lately. It was primarily a sketch show, but many of the same kinds of bits would find their way into Lately as segments. Like The Grace Helbig Show, it tried to take the late night concept out of the traditional format and tried to do it on a Friday night at 10:30. It had a run of 12 episodes before it was canceled, and Handler went to work on Chelsea Lately.
The YouTube factor: There is one thing that makes Helbig different than Glaser, Schaefer and Handler: Her built-in audience of 2 million on YouTube. It's also an audience she gained from scratch. They're loyal, and if every one tunes in, The Grace Helbig Show would be a huge hit, especially for a late night show on Fridays.
But that's an unrealistic expectation. Most vlog viewers are young and female — counting on tween and teen girls to be in front of their TV screen every Friday at 10:30 is a losing gamble, no matter how loyal they may be. More than that, as mentioned previously, these are fans used to seeing their star for five minutes a day every day of the week. How will they process seeing her for quadruple that time at once? Will Helbig remain as appealing when there's more of her each week, or will vlog audiences get bored?
If this were a Wednesday show in the same timeslot, something to watch right before bed, the scheduling might make sense. For The Grace Helbig Show, it's hard to see how the YouTube audience advantage will help make this a hit. E! has taken the one area in which they were ahead and given themselves another barrier to climb.
It's hard out late for a woman: The question of whether YouTubers can make the leap to TV is a valuable one. If anyone could do it, it's likely Helbig, who already has TV experience from late night show appearances and a recurring stint on Comedy Central's @midnight. She even starred in a movie written and conceptualized by other YouTubers. Her brand is strong.
But that doesn't change the fact that talk shows at night are hard for women to start from scratch. Handler had the most success with Lately, but jumped ship for Netflix when the lighter, pop culture-focused topics weren't to her taste. Kathy Griffin tried with Kathy, a Bravo talk show, but never achieved the cultural cache as Andy Cohen's Watch What Happens Live. And Nikki & Sara Live never got off the ground.
If The Grace Helbig Show works, it won't just be an endorsement that YouTube stars can jump the gap and make TV work. It will also be a sign that young, female stars can build their own brand and make it work as a talk show. Helbig faces a gauntlet of challenges, and it's definitely a risk — but one with a potentially huge reward up for grabs.