The Next Big Pop Star Has "No Gender, No Sexuality and No Fucks to Give"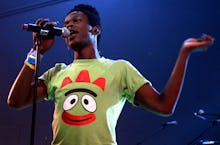 There's so much buzz surrounding Shamir that he could be a beehive. The 20-year-old Las Vegas native recently premiered "Call It Off," the single off his upcoming album, Ratchet. If you don't recognize the name Shamir, you might recognize the artist's song, "On the Regular," from Android commercials.
Shamir is on everyone's "must-watch" list: Pitchfork, Vogue, NME, Interview and NPR have all sung his praises. His androgynous image makes him unique enough, but Shamir's voice, a countertenor with shades of a young Frankie Knuckles or Prince, is what really sets him apart. The kid is poised to be one of the biggest pop stars of 2015 — an androgynous, super-charismatic young pop star who has, as per Twitter, "no gender, no sexuality, and no fucks to give."
"Call It Off" is the latest release from Shamir, and there's no doubt it'll bump on dance floors around the world before long. Since the single's release on March 23, Shamir's status has skyrocketed: Complex, Stereogum, Noisey and the Fader all covered the video's release. And "Call It Off" was directed by Philip Hodges, the guy who brought us Foo Fighters and Ben Folds Five having their own party with puppets. It already has over a million views on YouTube.
But before "Call It Off" was even a seed of a thought, Shamir was just a high school kid with a penchant for flair. He was in a punk band called Anorexia in high school, and (shockingly) even entered some country singing competitions when he was younger.
"I come from a folk and country background," Shamir told NME. "My first time doing music was on acoustic guitar, I had a friend from Texas who taught me so much country, I entered a few country competitions. But eventually I got tired of it. Not because I was tired of country music, it was just the people around me wanted to take me and do that very current young Taylor Swift pop-country route and I really wasn't feeling it."
Instead, his music took a major turn to pop when he inherited a vintage Dr. Groove drum machine. He messed around with beats and wrote "If It Wasn't True," a song that he posted to his SoundCloud page. Without any expectations, he sent the track to Brooklyn-based label Godmode (the folks behind Sky Ferreira's fantastic song "I Blame Myself"). Label owner Nick Sylvester immediately knew Shamir would be a hit. 
"There was something so humble and honest about the way Shamir presented himself," Sylvester recounted to NME. "[The tracks] were super raw and unpolished and entirely without guile, just Shamir singing over ragged drum machine loops. I wrote back to him immediately."
In October 2013, Shamir sent the track out; by January, he was on a plane to New York to record with Sylvester. The two released Shamir's first EP, Northtown, on June 12, 2014. The album title comes from the name of Shamir's hometown, a suburb north of Las Vegas. Northtown gained Shamir plenty of attention, and for good reason: Each of the six songs on the EP is incredible, particularly the beautiful, country-tinged cover of Lindi Ortega's "Lived and Died Alone." Shamir has the kind of voice that defies genre — his charisma always wins out. 
Source: Soundcloud
"['Lived and Died Alone'] shows my old acoustic background, because anyone knows that I have to play guitar," Shamir told NME. "That's my therapy, if I don't play it for a while I get withdrawals, it's really bad. I feel like [Lindi's] song is more about wanting to not be alone, and she uses a very gothic approach about digging up the dead. I think it's a very perfect song." 
For his new album, Ratchet, due out May 19, Shamir signed with XL Recordings, which bodes well for his future as a musician. XL, a London-based label, is a major player in the music scene of London and America. They boast artists who cross easily from indie to mainstream like FKA Twigs, Adele and Jack White.
At the end of the day, Shamir's distinct voice is unavoidably at the center of every discussion. "I've pretty much sounded like this literally my whole life, even before adolescence," Shamir told Pitchfork. "That's just like the deal with my voice. As far as influences, I listen to a lot of people like Nina Simone and other androgynous voices, almost to make me feel like I'm not alone."
If Shamir is alone, though, it's only because he's peerless — he is about to launch an incredible and singular career.