These Mesmerizing 3D Photos Give You a New Perspective on the World's Greatest Treasures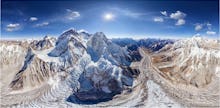 Amazing photos — the Internet's full of them. If you spend enough time online, you probably think you've seen it all. Whether it's your artistic Facebook acquaintances aggressively documenting their world travels, or your Instagram feeds and Pinterest boards covered in snaps, the world is full of stunning visuals. 
But you ain't seen nothing yet.
AirPano, a nonprofit collective of Russian photographers with an affinity for creative and unique photo vistas, has been collecting a series of breathtaking panoramic aerial photos from around the world. According to the AirPano website, the images are taken out of everything from helicopters to airships.
The result is a collection of stunning, interactive images, all of which reveal new perspectives on some of the most iconic places in the world. Showcasing both natural wonders and man-made marvels, the AirPano project reminds us sometimes beauty comes from just looking at something from a new perspective. 
For now, sit back, relax and enjoy the view.
Vernazza, Cinque Terre, Italy
Source: AirPano
Las Vegas, USA
Source: AirPano
Antarctica
Source: AirPano
Riomaggiore, Cinque Terre, Italy
Source: AirPano
Volcano Klyuchevskaya Sopka, Kamchatka, Russia
Source: AirPano
Chicago, Illinois, USA
Source: AirPano
Naarden, Netherlands
Source: AirPano
Yellowstone National Park, USA
Source: AirPano
Wasn't that worth it?