Stunning Photos Show What Dubai Looks Like When It's Hit With a Brutal Sandstorm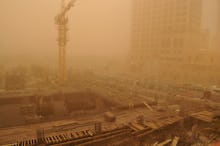 A massive sandstorm hit the United Arab Emirates on Thursday, turning the usually futuristic and exorbitant skyline into an ugly, sepia-toned construction zone.
Flights to and from Dubai's massive and absurdly busy airport had to be diverted, leaving passengers stranded, and the National reported an increase in area hospital patients since the storm hit.
Residents took to Twitter with images of the sand-assaulted city, which, according to the UAE's National Center of Meteorology and Seismology, is so overwhelmed by the storm that visibility has been reduced to 500 meters (about 1,640 feet).
"Unstable weather has caused the country's temperature to drop to its lowest at 15.7 degrees this morning in Jebel Jais, the UAE's tallest mountain," Gulf News reported, and conditions may last through the weekend.
This is what happens when you build an indoor ski resort, Dubai: Nature retaliates with the most popular and terrible Darude song ever written.