One Reason Domestic Violence Victims Stay That No One Is Talking About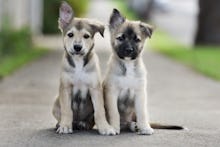 In September, many women shared why they remained in abusive relationships in a Twitter discussion on domestic violence, using the hashtag #WhyIStayed — and one significant, yet often overlooked, reason is our furry friends.
Women's relationships with their pets often binds them to dangerous relationships, as many can't fathom placing their pets' lives in jeopardy by leaving them in abusive homes. The Humane Society has estimated a third of domestic violence victims "prolong their abusive relationships out of concern for the well-being of their pets," with as many as "25% of domestic violence survivors [having] reported returning to an abusive partner out of concern for their pet." 
Despite the problem, "only 14% of the responding shelters offered safe housing services for pets and only 25% routinely included information about pet safety in their written materials," National Link Coalition coordinator Phil Arkow noted in his 2014 article "Form of Emotional Blackmail: Animal Abuse as a Risk Factor for Domestic Violence."
Now, thanks to Rep. Katherine Clark (D-Mass.) and Rep. Ileana Ros-Lehtinen (R-Fla.), Congress is debating the Pets and Women Safety (PAWS) Act of 2015 (HR 1258), a bipartisan bill that would allocate federal funds to emergency and short-term pet shelters that would provide protection for "pets of victims of domestic violence, sexual assault, stalking and dating violence." In an email exchange with Mic, Clark said "the PAWS Act also makes it illegal for an abuser to threaten harm to a victim's pet online or across state lines." She continued, "This is an essential part of the legislation because abusers often use threats of violence against pets as a means to manipulate their partner."
With 68% of U.S. households owning at least one pet, this legislation aims to enable abuse victims to leave a violent situation with all their family members, human or otherwise. 
The data: In 2013, the National Link Coalition reported that more than "71% of battered women reported that their batterers had harmed, killed or threatened animals," and "more than 75% of these incidents occurred in the presence of the women and/or children to coerce, control and humiliate them."
"More than a dozen studies have reported that from 18% to 48% of women entering shelters delayed their escape due to concerns for the welfare of pets or even livestock left behind," Arkow wrote. 
In fact, 2013 research led by Jennifer L. Hardesty on the matter revealed little information about which shelters, if any, in a given area provide services to care for women's pets. In the course of their research, Hardesty and her team found that "another study of 1,553 [domestic violence] programs reported that 60% of programs do offer advocacy services related to the placement or care of pets for abused women," but the researchers could not retrieve any evidence of how well those programs have been implemented, nor the extent of their services.
Protecting our loved ones, protecting ourselves. "We must have a national policy that safeguards the pets of abuse victims and recognizes that domestic violence impacts all members of the family — including the four-legged," Michael Markarian, chief program and policy officer of the Humane Society, said in a press release. 
The PAWS Act of 2015 would fund programs to increase "emergency and transitional pet shelter and housing assistance" and provide "short-term pet shelter and housing assistance." With these resources in place, women will feel less compelled to stay in these relationships because of concern for their pets. "Removing barriers to escape and empowering victims are both vital," Humane Society director of animal cruelty policy John Goodwin told Mic.
While the bill moves through various congressional subcommittees, Goodwin recommends that "domestic violence victims to look to their friends and family for assistance in taking care of pets while the victim is seeking refuge."