The New York Boy Scouts Just Made History With Their Latest Hire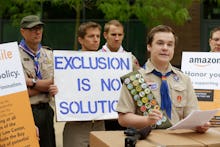 On Thursday, the Greater New York Councils of the Boy Scouts of America hired the first openly gay Eagle Scout to work as a summer camp leader, a historic move that sharply contradicts the national organization's policy of excluding out gay adult members.
The new hire is 18-year-old Pascal Tessier, a Maryland native and a member of the advocate group Scouts for Equality.
"We believe that this young man, who achieved his Eagle Scout designation in 2014, is an exemplary candidate for employment as participation in our camp program," board member Richard Mason said in a statement emailed to Mic. "We welcome him and look forward to his participation in our camp program."
Tessier's application, which the New York chapter's board recently accepted, will now move on to the national organization for approval. BuzzFeed's Chris Geidner reports that Tessier has already hired David Boies — the same lawyer who helped successfully defeat Proposition 8, California's anti-gay measure — should the national chapter decide to challenge his hiring.
Overcoming a boycott: While the Boy Scouts of America amended its rules in 2013 to allow for openly gay children and teens as scouts, it has steadfastly preserved its boycott of openly gay adult members. 
In a statement emailed to Mic, BSOA Communications Director Deron Smith noted that the New York chapter's hiring move wasn't prompted by a shift in the national rulebook. "The Boy Scouts policies for adult leaders and employees have not changed. While we were only recently made aware of this issue, we are looking into the matter," he said.
Tessier has made waves before. In 2013, following the rule change, he became one of the first openly gay Boy Scouts to earn the rank of Eagle Scout. In 2014, he wrote an open letter in 2014 to Boy Scouts president and former Defense Secretary Robert Gates, asking him to reconsider the policy of banning out gay adults.
"In allowing the Boy Scouts' ban on gay adults to continue — not because he believes it is the right thing to do, but because he is afraid of the possible consequences of enacting a fair policy — Mr. Gates is knowingly sacrificing thousands of devoted Scouts who happen to be gay. Scouts like me," Tessier wrote in the letter, which was published in Time.
Scouts for Equality, for its part, was strongly supportive of Tessier's hiring. "This is a watershed moment," Zach Wahls, the group's executive director, said in a statement. "For the first time in the history of the Boy Scouts, an openly gay adult will join their ranks as a camp counselor."
As states like Indiana and Arkansas grapple with accusations of discrimination disguised as religious freedom, at least one group seems to be taking a stand for equal rights.
"All of our members repeatedly pledge to respect all people and defend the rights of others," the New York chapter's statement read. "We strongly believe that both gay adults and youth must be welcomed in Scouting."
At a time when the national Boy Scouts of America, that bastion of good old-fashioned American values, could sorely use an update on its civil rights stance, the New York chapter is taking things into its own hands. With any luck, they'll inspire the rest of the country to follow suit.