Cosmo Used Black Models for Trends That Should "Die" — And Revealed a Huge Problem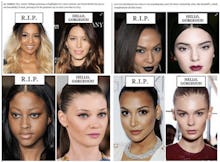 A Cosmopolitan article from January that resurfaced online April 1 sheds light on a huge problem in the fashion industry.  
The article, "21 Beauty Trends That Need To Die in 2015," presents a series of split images: on the left, trends "that need to die," and, on the right, new "Hello Gorgeous!" trends to ring in the new year.
The controversy surrounds the racial identity of the models of those trends — only one mixed-race woman, Nicole Richie, was in the "Hello, Gorgeous!" column, while three black women and one Latina were in the "R.I.P." column. Observers on Twitter sharply pointed out the dichotomy:
Media outlets also called out the bias, with assertive headlines like the Root's "Cosmopolitan Kills Black Styles To Let White Girls Live" and Bustle's "The Cosmo Article '21 Trends That Need To Die in 2015' Should Have Never Been Published." 
Cosmo attempted to quell dissent by swapping out some of the images and adding an editor's note, writing, "This article focuses on beauty trends with images that represent those trends. Some images have been taken out of context, and we apologize for any offense. Celebrating all women is our mission, and we will continue to work hard to do that."
But such an explanation places the blame on the reader, by asserting that they took images "out of context." This was hardly an effective apology (but then, blaming others for one's own oversight rarely is). 
Cosmo's oversight — but fashion's problem: In this age in which identity politics dominates all discourse, Cosmo should have contemplated how their portrayal of en vogue and outdated trends would read in terms of identity. They obviously didn't. The magazine's oversight is symptomatic of a broader problem in fashion: the underrepresentation of women of color. "A 2014 report on diversity in fashion found that white models appeared on the cover of magazines five times as often as" women of color, the Sydney Morning Herald points out.
Mic's own Liz Plank also recently took fashion's diversity problem to task:
In fairness to Cosmo, ombré hair and "crazy graphic liner" are not necessarily cornerstones of black style. What's more, this isn't quite on the same level as a Glamour editor's 2007 advice to female lawyers that black women's natural hair styles were a workplace "don't." Criticism suggesting that Cosmo "kill[ed] Black celebrities" is also particularly hyperbolic given the rates of violence against women of color, particularly trans women of color.
The fashion industry may be based on design and aesthetics, where models are regarded as mannequins and color palettes, so to speak, but fashion still exists in the real world and concerns human beings. Fashion consumers deserve to have their beauty and identity validated on the runway and in the pages of fashion magazines.
The fashion industry — and Cosmo, in this case — cannot take part in an economic exchange with consumers without taking heed of their identities. And it'll make magazines and runways just that much more interesting.