This Woman's Spectacular Obituary Is Going Viral for All the Right Reasons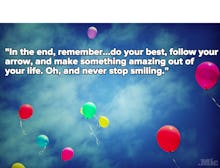 It's not often that an obituary has the power to reach the hearts and minds of thousands of strangers, but that's exactly what happened with Emily Debrayda Phillips' final goodbye this week.
Phillips, who died on March 25 from pancreatic cancer, penned her own obituary shortly after she was diagnosed in February. In it, she describes — with equal parts humor, spunk and measured reflection — the course of her life.
"So many things in my life seemed of little significance at the time they happened but then took on a greater importance as I got older," she wrote. "The memories I'm taking with me now are so precious and have more value than all the gold and silver in my jewelry box."
The entry, first published Tuesday in the Florida Times Union, recounts her early life as the middle of three daughters; her early interest in teaching, a profession she would later take up, spurred on by her own teachers; her time as head majorette of her high school band; and her marriage, children and grandchildren.
But the most moving parts are the snippets of wisdom scattered throughout. 
"So... I was born; I blinked; and it was over," Phillips wrote. "No buildings named after me; no monuments erected in my honor. But I did have the chance to know and love each and every friend as well as all my family members. How much more blessed can a person be?" 
The message soon went viral, appearing in publications like Time and the Huffington Post. It also landed on Reddit, where users commented on its touching sincerity. 
Phillips' family was equally moved and surprised by the attention. 
It was "beyond our wildest dreams," her daughter Bonnie Upright told the Huffington Post, adding the Internet's reaction "would have surprised the heck out of [Phillips]. She would have been humbled but super excited. We joked early on that it was New York Times worthy — never in a million years thinking it would have taken off like this."
Her spirited way of expressing her thoughts on her life, however, all but ensured the obituary would ring true with others. And her gentle advice — "In the end, remember... do your best, follow your arrow, and make something amazing out of your life. Oh, and never stop smiling." — serves as a reminder that the best lessons often come from those who know what they'll soon be without.
"I couldn't be more proud of her," Upright told the Huffington Post. "She was a teacher by profession, so for many years, she impacted the lives of hundreds of children. But in the end, it's the lesson she's taught adults that may be the most memorable of all."