A Brave Kenyan Student Emerges Alive Two Days After University Terror Attack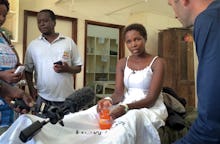 Rescuers found 19-year-old Kenyan student Cynthia Cheroitich hiding in a dormitory closet early Saturday, two days after al-Shabab militants stormed Garissa University College, targeting Christians and killing 147 students.
The young woman had refused to emerge when police insisted it was safe, she told the Associated Press, only agreeing to climb out after one of her professors arrived to assure her the threat had really passed.
When the massacre began, Cheroitich covered herself in clothes in a large cupboard. Many of her classmates tragically capitulated to threats from gunmen, who demanded they come out from their hiding places. To stave off hunger and thirst during the two days, the young woman says she drank a bottle of lotion.
"I was just praying to my God," Cheroitich, who is Christian, told the AP.
What was she hiding from? On Thursday morning, members of al-Shabab, an Islamic extremist group with links to al-Qaeda, carried out their attack by storming student dormitories. The initial assault quickly devolved into a massacre and hostage crisis, lasting almost the entire day.
Collins Wetangula, another survivor of the massacre, described the events to the AP: "All I could hear were footsteps and gunshots. Nobody was screaming because they thought this would lead the gunmen to know where they are."
The gunmen announced themselves as al-Shabab militants and proceeded to ask students if they were Muslim or Christian. "If you were a Christian, you were shot on the spot. With each blast of the gun, I thought I was going to die," Wetangula said.
Cheroitich was discovered as friends and families of the victims waited to identify their bodies at a facility in Nairobi, the Kenyan capital. 
The investigation and related recovery efforts are ongoing. Kenyan authorities have arrested five men allegedly associated with the attacks.
Why did this happen? Al-Shabab have been conducting a roughly decade-long insurgency in Somalia in an attempt to gain control of the country. The African Union has intermittently offered military support in order to buttress the internationally recognized Federal Government of Somalia.
Al-Shabab's spokesman, Sheikh Ali Mohamud Rage, told Agence France-Presse that the massacre was carried out to avenge Kenya's involvement in the African Union's actions against al-Shabab in Somalia.
Al-Shabab has made similar threats to neighboring Ethiopia for their involvement in quelling Islamic extremism in Somalia by a unilateral invasion in 2006 and by offering support to the African Union mission.
Thursday's events underlined a growing sense in the global community that the militant group must be tackled head-on, perhaps with a more robust coalition dedicated to dismantling its infrastructure. 
"The United States is providing assistance to the Kenyan Government, and we will continue to partner with them as well as with others in the region to take on the terrorist group al-Shabab," the White House said in a statement Thursday.
Doing nothing is clearly no longer an option.