The Muppets Are Coming Back to TV — And People Are Really, Really Excited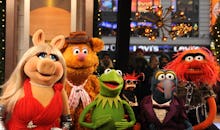 Some of our oldest friends are returning to TV after a 19-year hiatus: The Muppets.
Entertainment Weekly reports that ABC is developing a reboot of everyone's favorite puppet show, to be helmed by The Big Bang Theory co-creator Bill Prady as co-writer and co-executive producer, along with showrunner Bob Kushell, who previously worked on Anger Management. As the magazine notes, Prady has previously written for such Muppet shows as The Jim Henson Hour, Muppet Classic Theater and "a number of Muppet specials."
The Muppets haven't been seen on TV since the ill-fated Muppets Tonight, a guest star-focused show which failed to secure a second season after a lackluster debut in 1996. According to the Wrap, details are "scarce" but the reboot is "being described as a behind-the-scenes comedy involving classic Muppets characters like Kermit the Frog, Miss Piggy, Gonzo and others." A proof of concept is set to be filmed next week.
So maybe we'll get to see some of the Muppets in a Behind the Music-type setting, grumbling about the pitfalls on their path to fame and glory.
Muppet fans are very excited that the franchise is getting its first chance at a TV revival in nearly two decades:
Turning back to the TV screen is a natural move, seeing as the Muppets have recently been involved in two successful feature films: The Muppets in 2011 and Muppets Most Wanted in 2014. As Deadline Hollywood reports, "ABC already has series based on characters from Disney-owned Marvel (Agents Of S.H.I.E.L.D. and Agent Carter) and some of its most popular fairy tale/animated characters (Once Upon a Time)."
However, it doesn't seem like any hard news regarding the reboot will emerge for some time — so you'll just have to let this classic Spring-appropriate Muppets sketch do for now: