Here Are 7 of the Most Repulsive Racist Emails Sent by Ferguson City Employees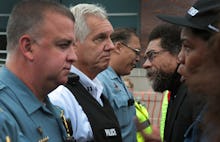 Dozens of racist, sexist and otherwise hideously offensive emails sent and received by two former Ferguson, Missouri police supervisors and a former court clerk have been released to the public by city officials. This latest disclosure comes nearly a month after the U.S. Department of Justice published its damning report on institutional bias and bigotry in Ferguson's municipal government.
The entirety of the email collection hinted at in the DOJ report was turned over Friday, less than a week shy of eight months since white Ferguson police officer Darren Wilson shot and killed Michael Brown, an unarmed black teen. A Missouri grand jury chose not to indict Wilson in Brown's death and the Justice Department decided last month that it would not pursue a civil rights case against the former cop. Wilson left the force in November. 
The three city employees who sent the messages below, which cover a three-year period ending in 2011, have been removed from their posts. Ferguson goes to the polls on Tuesday for city council elections. 
These are seven of the officials' most offensive emails: 
One message compared people on welfare, and those who don't speak English, to dogs.
This image was titled, "MICHELLE OBAMA'S HIGH SCHOOL REUNION!!!!!!"
Another "joke," sent after the 2008 election, suggested that President Obama was too lazy to keep his job.
Another message suggested that a black woman who has an abortion should be paid by "Crimestoppers." 
An image of a young Ronald Reagan feeding a chimp was the set-up here.
This is about a man named "Leroy" making his final child support payment.
Two more extremely unfunny one-liners about Muslims and Pakistanis, who had been struck by deadly flooding around the time this email was sent.
It is just one more bleak irony that, in a city which had become accustomed to preying on its black citizenry with the ruthless efficiency of an organized crime operation, these officials repeatedly returned to vulgar "jokes" about laziness and gluttony. Justice Department officials reported that, in 2015, expected revenue from fines and fees would amount to more than $3 million, or nearly a quarter of the city's budget, a small portion of which would have been dedicated to paying salaries to the authors of these messages. 
In response to the initial DOJ report, Ferguson Mayor James Knowles III denied that the emails, only mentioned in brief then, were representative of a larger problem in the municipal government.
"Let me be clear, this type of behavior will not be tolerated in the Ferguson Police Department or in any department in the city of Ferguson," he said. With the federal government now actively at work reforming the infrastructure of his government, there is, at last, a chance that promise could be realized.