Here's the Staggering Amount of Money a Pizza Place in Indiana Made Off Homophobia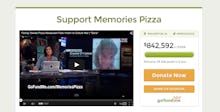 One small town pizza chain has discovered the trick to getting rich quick: Put a smiling face on American homophobia. In exchange for being portrayed as victims of liberal intolerance by right-wing sympathizers, the owners of a Walkerton, Indiana pizzeria may walk away with close to $1 million dollars.
Memories Pizza drew national attention this week when co-owner Crystal O'Connor spoke out in favor of Indiana's notorious Religious Freedom Restoration Act, which Republican Gov. Mike Pence signed into law March 26 and is widely being interpreted as a deliberate effort to legalize discrimination against gays and lesbians in the state. Under pressure from more forward-thinking business leaders, Pence on Thursday signed a "fix" that prohibits places like Memories from refusing to "provide services, facilities, use of any public accommodations" on the basis of, among other things, "sexual orientation" or "gender identity."
O'Connor, however, endorsed the law, saying it would protect the pizzeria's status as a "Christian establishment" and claiming that while they would not turn away an LGBT customer, Memories would refuse to cater a gay or lesbian wedding.
"If a gay couple came in and wanted us to provide pizzas for their wedding, we would have to say no," O'Connor told local news station ABC 57. "We are a Christian establishment." Co-owner Kevin O'Connor added, "That lifestyle is something they choose. I choose to be heterosexual. They choose to be homosexual. Why should I be beat over the head to go along with something they choose?"
Responding to follow-up questions from the Daily Beast,  Kevin O'Connor said, "I don't have a problem with gay people. I do not condone gay marriage and that's what I said."
That particular clarification wasn't good enough for some people, apparently, as the chain's Yelp page was flooded with negative reviews. Memories Pizza also claims it was inundated with phone and social media threats, forcing it to "temporarily" shut down.
But in what's probably the exact opposite of a heartwarming story, right-wing activists claiming that Memories Pizza was the victim of a "culture war" set up a GoFundMe account "to relieve the financial loss endured by the proprietors' stand for faith."
It raised $842,387 as of Saturday afternoon.
Pretty sweet trick, right? Too bad it's all based on an outpouring of sympathy for intolerance.
Considering the O'Connors were originally just what the Daily Banter's Tommy Christopher called "good bumpkin reax" — the kind of interviews local TV news directors know have the potential to gin up controversy — this incident just goes to show the power of the victim mentality promoted by Gov. Pence. 
If only right-wingers had the same kind of sympathy for those who actually face anti-LGBT discrimination.