Pope Francis Has an Easter Message on World Peace Everyone Needs to Hear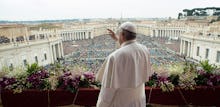 During his traditional Easter Sunday address, Pope Francis addressed thousands huddled under the rain in St. Peter's Square in a renewed call for world for peace.
From his central balcony in Vatican City, the pope delivered his yearly Urbi et Orbi — what CBS calls "a kind of papal commentary on the state of the world's affairs." In it, Francis wished for a swift end to hostilities in Syria and Iraq, where the bloody rise of the Islamic State group has contributed to conflicts that have killed tens of thousands annually. 
"We ask for peace, above all, for Syria and Iraq, that the roar of arms may cease and that peaceful relations may be restored among the various groups which make up those beloved countries," Francis said, according to the BBC. "May the international community not stand by before the immense humanitarian tragedy unfolding in these countries and the drama of the numerous refugees."
Though it might not have been the most original address from the pope, it comes at a time when the continuing crisis in Iraq and Syria and a number of other conflicts raise concerns about human rights and safety around the world.
Pope Francis also asked for peace in Ukraine, where Russian-backed insurgents in the eastern half of the country have been waging a violent war of secession against the central government in Kiev. He told combatants to lay down their arms in other countries locked in internecine struggles such as Libya, Nigeria, Sudan and Democratic Republic of Congo. 
The audience of tens of thousands listened eagerly as the pontiff made his address.
CBS reports Francis denounced "absurd bloodshed and all barbarous acts of violence" in Libya, which has been in a power vacuum since the fall of dictator Moammar Gadhafi in 2011. Francis additionally hoped for a "common desire for peace" in Yemen, where Houthi rebels have taken over large sections of the country and a Saudi Arabian bombing campaign has begun to push them back.
Francis also spoke positively of the Obama administration's nuclear deal with Iran, saying that he hoped it could prove to be a "definitive step toward a more secure and fraternal world." His praise of the tentative diplomatic agreement comes as Republicans in Congress have doubled down on their opposition to any deal with Iran, and is a move sure to frustrate GOP politicians who have previously been spurned by Pope Francis' stances on U.S.-Cuba relations and the environment.
Lastly, Pope Francis lambasted drug dealers, arms traffickers and corrupt officials, pleading the world to end an era where some still "earn their living with the blood of men and women."
It's a message of peace for a complicated world, and participants in these conflicts may be unlikely to appreciate the pontiff's call-out.
However, given his string of forward-thinking proclamations since his papacy began in March 2013, Francis has gained strong support and reverence as he's been reforming the church and somewhat modernizing it for a 21st century audience. And it's paid off. A recent NBC News/Wall Street Journal poll found that just 6% of Americans view the pope negatively, while 55% view the pope positively and another 34% gave him a "very positive" rating. 
Though the U.S. is inextricably tangled with many of these global conflicts, perhaps given his admiration stateside, more Americans will take his words to heart.