Landmark California Case Sends Revenge Porn Kingpin to Prison for 18 Years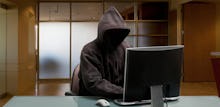 In a landmark case, the San Diego Superior Court sentenced Kevin Bollaert, founder of notorious Internet revenge porn website U Got Posted, to 18 years in prison. 
Bollaert was convicted in late February, but just received his almost two-decade-long sentence Friday, marking the first time a person was tried, convicted and sent to prison for operating a revenge porn ring in the United States.
The Los Angeles Times reports that Bollaert received his sentence after being found guilty of "multiple felony counts of identity theft and extortion. Bollaert was ordered to pay $15,000 in restitution to his victims and a $10,000 fine. Bollaert will be allowed to serve the sentence in a county jail rather than state prison under the judge's ruling."
In the historic case, prosecutors argued that U Got Posted displayed user-submitted nude photos of women without their consent, along with their personal and contact information. When the women repeatedly asked to have their photos taken down, Bollaert extorted them into paying $300 to $350 to complete the request, using the threat of continual harassment by anonymous Internet users as his leverage.
It's a victory for victim's rights online, where often they aren't protected. Bollaert's operation was extensive. According to the BBC, prosecutors alleged the extortion system included about 10,000 images arranged by location, and that Bollaert made "around $900 per month from advertising on the site and records obtained from his changemyreputation.com PayPal account indicate that he received payments totalling tens of thousands of dollars."
Bollaert is one of several revenge porn operators to face rapidly changing laws and regulatory attitudes on the business. As Slate's Amanda Hess points out, Is Anyone Up manager Hunter Moore and an associate recently plead guilty to hacking charges that carried up to seven years in prison, knock-off site Is Anybody Down manager Craig Brittain was forced to leave the business after settlement with the Federal Trade Commission and Win By State manager Casey Meyering will soon face charges similar to Bollaert's.
Though some questions about freedom of speech as it relates to posting revenge porn remain, prosecutors were able to demonstrate the true nefarious character of Bollaert's operation, which extends far beyond posting the photos and into extortion and identity theft — two crimes with clear precedent in the country. 
According to law firm C.A. Goldberg PLLC, 16 states now have laws criminalizing revenge porn, most of which were passed in the past few years. Another 21 have laws pending. In California, where Bollaert was charged, a law passed last year that criminalized posting explicit images of someone without their consent. This helped nullify users' traditional defense that users uploading the images were committing the crimes, not the site managers. The number of safe havens for revenge porn operators in the U.S. is quickly dwindling.
Why you should care: Revenge porn isn't just criminal extortion, it's emotionally damaging and exposes women to real danger. The BBC reports that one email from a woman with photos posted to U Got Posted sent to Bollaert read "Please help! I am scared for my life!" The sender said she was unable to return to work after anonymous users called her workplace and that the photos may have been taken of her before she turned 18. According to the Los Angeles Times, another woman said she was continually emailed by, texted by and received phone calls from strangers "asking to hook up."
Shutting down the websites and punishing the operators sounds like a good start to rectifying this injustice. Finding a way to stem the flow of stolen nude photos onto the Web, though, will take a much longer time. However, with convictions like Bollaert's and a spree of anti-revenge porn laws being passed around the country, we're on the right track.