25 Stunning Photos of People Celebrating the Holy Holidays All Around the World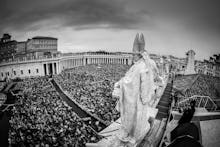 Sunday marks Easter, the Christian holiday celebrating the resurrection of Jesus Christ, as well as the third day of Passover, the Jewish holiday commemorating the emancipation of the Israelites from Egypt.
This year's April festivities commence at a time when religious demographics are shifting in a big way internationally. While organized religion is on the decline in the U.S. and Europe, Pew data suggests that religiosity is increasing across the globe and, by 2050, the number of Muslims will nearly equal the number of Christians. This year, from Israel to Brazil, Christians and Jews celebrated with elaborate ceremonies, parades and local traditions. 
Here are some of the ways Easter Sunday and Passover are being observed around the world in 2015.
Jerusalem 
Tel Aviv, Israel
New York
Morrison, Colorado
Lisbon, Portugal
Paris
Ouro Petro, Brazil
Cairo
Vatican City
Karachi, Pakistan
Norfolk, England
Kolkata, India