Madonna Took a Powerful Stand Against the Media's Censorship of Female Bodies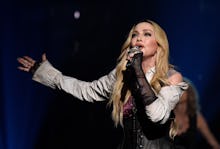 "Why is it ok to show ass but not breasts? Drowning in the hypocrisy of social media."
On Friday, April 3, Madonna took to Instagram with that quote and a semi-nude picture, taken from her 1992 coffee table book, Sex. The Instagram photo shows the Queen of Pop nude except for a black bar covering her nipples, and the hashtags #artforfreedom and #unapologeticbitch. 
The censored photo was in response to the backlash against an uncensored Instagram Madonna posted two days earlier, on Wednesday, April 1. According to E! Online, the first photo disappeared from Madonna's account, and she was rightly outraged at Instagram over its sexist policies. In the process, she galvanized a growing movement among women's advocates to desexualize female breasts and reclaim control of their bodies. 
Her original photo wasn't much more scandalous — except it featured her breasts:
The reaction even to Madonna's censored pic was swift and ignorant. X17 wrote, "We think this is celebs' latest way to get attention!" and comments on the Instagram photo ranged from, "Instagram isn't for pornographers. Take it somewhere else. Really. If you want to parade yourself do it somewhere else." to "No No No." 
These are among the less vitriolic reactions causing feminists like Madonna to advance #FreeTheNipple, a movement that's part of an ongoing battle over the censorship of women online. It asks a basic question: Why are men's nipples allowed to go uncensored while women's are forbidden? The movement has been alive for almost a year, but thanks to musicians and activists like Madonna, it's just now picking up the steam necessary to cause real change. Celebrities like Miley Cyrus, Rihanna and Cara Delevingne have also taken up the issue, and it's about time it got some real attention. 
Though Madonna isn't explicitly tying her photo to the movement, her aims are the same. She's focusing her discontent on Instagram's policies, which forbid photos like Madonna's. After all, Instagram's 12+ rating allows "Frequent or intense realistic violence" — just not nipples. This is part of a broader societal trend to censor women's bodies. To change those ideas, we need celebrities like Madonna to push constantly against what our culture deems "acceptable." With the help of musicians and outspoken activists, the nipple might soon see the light of day.