This Teen Got into Every Ivy League School — His Story Will Make You Admire Him Even More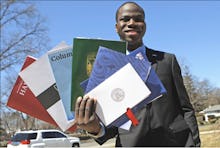 It's that exciting, nerve-racking time of year when high school seniors keep close tabs on their email and mailboxes to find out where they might spend the next chapter of their lives.
For Harold Ekeh, a senior at Elmont High School on Long Island, New York, his mailboxes overflowed with positive offers for the future. Ekeh, who immigrated to America with his parents from Nigeria eight years ago, was accepted to every single college he applied to — including all eight Ivy League universities. 
Even with economic barriers that some prospective students face, Ekeh proves the American dream can still be realized by the immigrants that make this country great in the first place.
Ekeh's story: "We had a fairly comfortable life in Nigeria," Ekeh told CNN Money, "but they told me we moved to America for the opportunities like the educational opportunities." His mother Roseline "works in Queens for a human resources agency," CBS New York reported, and "his father Paul works with the [New York Police Department's] traffic division."
During high school, Ekeh led social justice programs and was an academic mentor. After college, Ekeh told CBS, he wants to become a neurosurgeon to find a cure for Alzheimer's disease, which his grandmother had: "Kids would say, 'I want to be a firefighter or a police officer or a superhero. I would say I want to explore the human body, what makes us who we are."
Source: CBS
A testament to immigrants: Ekeh's story might seem familiar — just last year, another Long Island resident, Kwasi Enin, the son of Ghanaian immigrants, was accepted into each Ivy League university. Enin chose Yale, which Ekeh is also leaning toward, although he plans to visit the other seven Ivies beginning this week. 
For Ekeh, Enin and countless other immigrants and children of immigrants, the American dream will never be "a raisin in the sun," denied or deferred. It may be challenging to achieve, as America's immigration system is a bureaucratic nightmare that reflect the worst side of America's fear and loathing of immigrants, through everyday policing of their actions. But, as Ekeh shows, it can still be real. 
h/t The Root