Jeb Bush Forced to Admit He's Not Actually Hispanic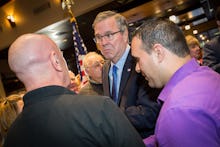 Even by the weird standards of American presidential politics, this one is a head-scratcher.
According to the New York Times, former Florida Gov. Jeb Bush identified himself as "Hispanic" on a sworn voter registration form in 2009.
The likely Republican presidential candidate is fluent in Spanish and his wife, Columba, was born in Mexico, but Bush is not, by any known definition, Hispanic. Presented with the documents early Monday, a representative could not offer the New York Times any explanation for his decision.
Bush spokeswoman Kristy Campbell later provided a statement to the Hill, saying, "It's unclear where the paperwork error was made. The governor's family certainly got a good laugh out of it. He is not Hispanic."
Indeed, he is not. His family traces their origins back to western Europe. Bush's parents, former President George H.W. Bush and Barbara Bush, were born in Massachusetts and New York respectively. His grandfather, Prescott Bush, of Ohio, served as a U.S. senator from Connecticut. Grandmother Dorothy Walker came from Maine, home to the family's Kennebunkport compound.
Bush and his son made light of the matter on Twitter:
On the question of immigration reform, Bush has tap-danced between calls for comprehensive reform and the de rigeur hardline rhetoric coming out of the Republican party. His ability to appeal to Latino voters has been and will be among his strongest appeals to the GOP during its primary campaign. Whether that angle had any bearing on his 2009 decision will, undoubtedly, be the subject of considerable speculation.
But if the furor that followed reports Sen. Elizabeth Warren (D-Mass.) identified as Native American during her time at Harvard Law School is any indication, the questions could persist even after Monday's mea culpa. Warren eventually settled on the claim that she is 1/32 Cherokee, as evidenced in part by an aunt, she said, who often remarked on a picture of her "Poppa," who "had high cheekbones like all of the Indians do."
Bush's quick confession might satisfy election officials, but it's less likely to quell inquisitive reporters and tickled political opponents, who will now set to work pursuing evidence of similar "mistakes."