Beyoncé's New Song Is Great — But You Shouldn't Listen to It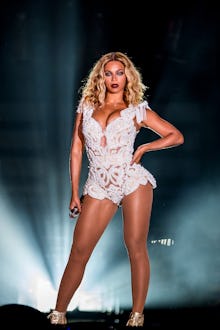 Update April 7, 2015 at 4:18pm
Over the weekend, Jay Z's music streaming service Tidal made a power play. Beyoncé and Rihanna both debuted new songs and Madonna released a teaser for a new video — all "Tidal exclusives." The biggest story was the new Beyoncé song, but while word of the song spread, the track itself didn't. Unless you find a lo-fi ripped version (like the one below, which has been taken down), you'll have to pony up for Tidal to watch the video debuting it. This is not the future of the music industry; this is a step backwards.
The video: Beyoncé's video is a simple cut of her playing piano and singing a new song, "Die With You," to her husband, Jay Z, revealed at the end as the cameraman. The simple DIY aesthetic comments she made in a recent Tidal promotional video: "The fans can see that it's from us. That's so important, and it's done." It's a vivid illustration of the service's claim to provide unprecedented access to music's biggest celebrities, who all share equity in the company.
Yet it's undeniably restricting access to music and upselling fans everywhere. Unlike requiring a fan to buy and download an inexpensive single, this exclusive model requires fans to subscribe to an expensive service to access songs from artists without pirating them. All of the service's celebrity equity holders — Win Butler and Regine Chassagne from Arcade Fire, Daft Punk, Chris Martin from Coldplay, Calvin Harris, Nicki Minaj, Jack White and the many other stars who stood in an awkward line at last week's Tidal's press conference — will presumably use it as a more personal way to share exclusive content. 
According to a source for the Swedish tech site Breakit, Kanye West may debut his new album on Tidal several months in advance. Whether or not that album will stay exclusive or — more likely — will simply be windowed on different platforms remains to be seen. After her exclusive debut, Rihanna is now sharing her new song on her official Vevo account. Better to make a few royalties that way than have fans sharing only pirated versions.
The other Spotify: Though Jay Z has explicitly stated that Tidal is not out to compete directly with Spotify, it is the newest and most direct competition to the Swedish streaming giant. This artist exclusivity is just one benefit Tidal claims to boast over Spotify. It will also offer higher-fidelity streams for a higher price tag. 
It poses as an artist-friendly version of Spotify by boasting higher royalty rates and equity for every artist involved with the service. But the details of how that actually shakes out for smaller artists are still too hazy to judge. Each of the 16 top-tier artists listed above reportedly have a 3% stake in the company, according to sources at Billboard. But when asked at a recent event about the portions of equity that smaller, independent artists would receive, Vania Schlogel, Roc Nation's chief investment officer and senior executive at Tidal, launched into an extended pizza metaphor about artists sharing small slices of a perpetually expanding pie.
What's dangerous about supporting the service based on an unclear business plan is that it discourages people from paying for Spotify accounts. If Tidal is pro-artist, then the implication is that Spotify is anti-artist. But it just isn't so. Although Spotify royalties are painfully low, the company still doles out roughly 70% of revenue to rights holders. The more revenue Spotify makes, theoretically, the higher the royalties become. Discouraging listeners from paying for Spotify by locking them into a more expensive service, one that has yet to offer a clear solution to the problem of low royalties, is not a step forward. It's a strike against the inherent openness of the Internet. And it may only return us to an era of more significant piracy before it returns us to an era of fairer pay.