The Best Music City in America Isn't New York, LA or Nashville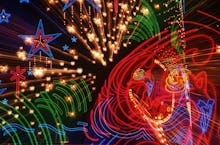 Las Vegas' musical reputation is simple: It hosts played-out legacy acts like Britney Spears and Celine Dion. It's a place for transients — tourists who slink along the strip with their fanny packs and Tevas and giant camera lenses — not established local musicians. Some native Las Vegas musicians would likely agree, claiming that the city is an inhospitable desert. It may come as a surprise, then, that it houses one of the more vibrant music scenes in the country.
"There is a healthy local music scene," Zoe Thrall, director of Studio at the Palms, Vegas' state-of-the-art recording studio, told Mic. "If it's any indication that we've had three major artists in the last 10 years come out of Vegas, I think that says something," she says, referring to the Killers, Imagine Dragons and Panic at the Disco. "So I think if history is an indication of how healthy the local scene is, that's a perfect example."
The local music scene is actually thriving despite the odds. The proof is in the pudding: Big names and indie acts from Vegas keep surprising the rest of the country with great music. Here's a list of the best contemporary acts to come out of Vegas, ones that contradict the stereotype of the city.
Jenny Lewis
As a kid in Vegas, indie songwriter Lewis lived in hotels while her mom and dad performed as a lounge act called Love's Way. Around the time Lewis was born in 1976, her parents were performing a stint at the now-defunct Sands Casino, according to the New York Times Magazine. She lived there until she was 3. When Lewis was in preschool, a talent agent picked her out of a crowd and the would-be musician became a child actress in commercials and TV shows. 
But Lewis couldn't land the big roles she wanted, so she focused on her music. In 2007, her first band Rilo Kiley signed to Warner Bros. Records. She went on to collaborate with indie band the Postal Service, eventually releasing solo material. Her latest album, The Voyager, was lauded by critics and fans. 
Shamir
The music world is abuzz with excitement over this Vegas native, who has, according to his Twitter, "no gender, no sexuality and no fucks to give." His debut EP Northtown is an homage to the suburbs where he grew up north of Vegas. The Fader recently proclaimed Shamir "Las Vegas' New Disco Prince." 
When Shamir traveled to New York to record his EP, his producer assumed that, since Shamir was from Vegas, he must listen to a lot of house music. "And I'm like, 'What's house music?'" Shamir told the Fader. With a background in country and a future in pop, Shamir is Vegas' newest shining star.   
Trade Voorhees
Another Northtown native, Voorhees is an MC and producer who calls himself the "Stephen King of the rap game." As a kid growing up in the suburbs, his parents would throw metal mosh shows in his living room, according to Vegas Seven — that, and his name (a reference to Friday the 13th) lend cred to his reputation as the "master of macabre." 
Voorhees released his latest and 12th project on March 14; he's released many projects on Saturday the 14th, a reference to his stage name's origins. "I was trying to come up with a last name and Voorhees stuck with me," he told Vegas Seven. "I was a huge fan of Jason but he's not even my favorite horror icon. I'm more of a Freddy guy. I like the charismatic come-off that Freddy has, the way that he talks. He has swagger."
The Killers
The Killers are among the most celebrated bands to come out of Vegas in the last two decades. In 2001, the band members had been working odd jobs around the city when they came together to form their new band. Their debut album, Hot Fuss, had five epic singles and sold 3 million copies in the U.S., according to Rolling Stone.
But according to the blog Las Vegas City Life, local love for the band is waning. The Killers haven't released new material since 2012's Battle Born, and that album received tepid reviews. As lead singer Brandon Flowers has gone about a successful solo career, the Killers have faded into the Vegas desert — at least for now. 
Black Camaro
This indie rock band have been together since the early 2000s, and they've released six albums together. They've been aptly described as "a calmer Ween, a weirder Pavement." The band's first album, called White People Fucked Up the Blues, pretty much sums up the band's attitude. 
"They sing of pedophiles and the true nature of existence, of being a crappy teen and of the joys of sleeping past noon, waking up and cooking bacon in the nude," the Las Vegas Review-Journal wrote of the band. "If Black Camaro's lyrics seem born of free association — and/or beer — their sound tends to follow suit."
Panic at the Disco
Fresh out of high school, Panic at the Disco caught on at the height of the emo craze in the mid-2000s. Not surprisingly, they were the first band Pete Wentz signed to his then-new label, Fueled by Ramen. The Vegas-based band released four studio albums, going through a series of member changes along the way. 
As of April 2, drummer Spencer Smith quit the band, leaving just frontman Brendon Urie. The band hasn't officially broken up, and the future of Panic at the Disco is anyone's guess. 
Marion Write 
Vegas transplant Write has been in Sin City for 15 years, and in September 2014 released his latest album, Black Gold. According to DJBooth.net, the album was inspired by Jimi Hendrix's lost tapes of the same name. Write names Nas and Mos Def among his inspirations, and like his idols, the Vegas MC voices social commentary in his music. 
"Catching buzz on popular hip-hop blogs," Vegas Seven wrote, "Black Gold paints stories of struggle and hustle through thoughtful, introspective rhymes complimented [sic] by crisp, soulful production."
GoldBoot
Logan Lanning and Bobby Lucy are the dudes behind this pop-disco duo. According to their Facebook page, the band has been heavily influenced by the Killers. Their other influences range from Michael Jackson to David Bowie to Sam Cooke. They have the glitzy, catchy sound perfect for a band that calls Las Vegas its home.
"Everything about GoldBoot is Las Vegas magic mixed with pragmatic reality," the band's Facebook says. "Their music is all the glamour and lights of the Vegas Strip, juxtaposed with heartfelt songwriting and real stories." 
Imagine Dragons
Four-piece rock-arena band Imagine Dragons formed in 2009 and recorded their first album at the Killers' Battle Born Studios in Vegas. Their biggest hit, "Radioactive," is the "biggest-ever digital rock track in America," according to Billboard. 
The band released their latest album, Smoke + Mirrors, in February, and the sophomore slump proved to be true in their case, as critics gave the album mediocre reviews at best. Still, "Radioactive" is a song that'll forever ring through people's heads when they hear the Vegas band's name. They'll be back.
Luna Flore
Shoegazers Luna Flore are hot on the music scene's radar in Vegas — they were named one of Vegas' 10 acts to watch this year by Las Vegas Weekly. In addition to being great musicians in their own right, the four-piece strongly advocates for the local music scene. 
"Luna Flore has always struck me somehow," musician Brian Gibson told the Las Vegas Review-Journal. "That, combined with their sincere interest and support for their music scene, really has me excited to see where they progress in the future."