This Edward Snowden Statue Just Appeared in NYC — Here's Why They Took It Down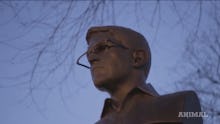 On Monday morning, before the sun rose and millions of sleepy New Yorkers ambled toward their offices, three artists and a handful of helpers installed an impressive new sculpture in Brooklyn's Fort Greene Park.
There were a few catches, however. For one, the artists did not receive permission to erect the massive, 100-pound bust. Second, the bust's subject, National Security Agency whistleblower Edward Snowden, is a relatively controversial and polarizing subject for a highly visible monument.
It didn't take long for Snowden's face to stop seeing the light of day.
Here's the bust before:
A short while later, the bust was entirely removed:
Animal offers the full chronology of the statue's construction. Reporter Bucky Turco explains: 
"The idea for the Snowden tribute was conceived about a year ago by two New York City-based artists with a history of pulling off notable public interventions. They linked up with a renowned sculptor on the West Coast who was sympathetic to their cause. The artists admit that Snowden probably wouldn't approve of the project, since he never wanted the leaks to be about him, but they hope he'd understand why they did it."
According to the group members themselves, the location was chosen for a reason: 
"Fort Greene's Prison Ship Martyrs Monument is a memorial to American POWs who lost their lives during the Revolutionary War. We have updated this monument to highlight those who sacrifice their safety in the fight against modern-day tyrannies. It would be a dishonor to those memorialized here to not laud those who protect the ideals they fought for, as Edward Snowden has by bringing the NSA's Fourth Amendment-violating surveillance programs to light. All too often, figures who strive to uphold these ideals have been cast as criminals rather than in bronze.
Edward Snowden appeared on Last Week Tonight with John Oliver on Sunday to discuss the NSA, life in Russia and dick pictures (no, really). He reiterated his previous views, telling Oliver, "You shouldn't change your behavior because a government agency somewhere is doing the wrong thing. If you sacrifice our values because we're afraid, we don't care about those values very much." 
Despite the fact that their covert artistry has been canned for now, the anonymous Fort Greene Park artists are trying their hardest to honor Snowden's actions.
"This is a guy who some of the traditional mass media has portrayed as a traitor, or a terrorist, and the very same thing would have been said about these POWs in the Revolutionary War times," they told Mashable. "But with 200 years of perspective, we realized they were fighting for something all of us are very grateful for. We hope it will shift people's perceptions, or open their eyes, that there could be a different story than what they've been told."
April 6, 2015, 2:50 pm: This story has been updated.