Watch Black Widow Kick Some Ass in the New 'Avengers: Age of Ultron' Trailer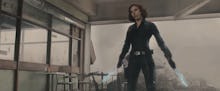 By now, you know what to expect of Avengers: Age of Ultron. Marvel has released increasingly awesome trailers to get fans stoked for the film's May 1 release over the past few months. There is little that viewers must leave to their imaginations.
That is, little besides the utter ass-kicking skills of Black Widow.
As the only female member of the team, Black Widow has had to keep the boys in line, a trend that continued when she appeared in last year's Captain America: The Winter Soldier. But in this trailer, she's the star.
Every bit of badassery we see from Scarlett Johansson's character in this trailer is a painful reminder of how much we need a solo female Marvel movie. 2018's Captain Marvel can't come soon enough, and while ABC's Agent Carter was a kick, the comic film giant could definitely stand to get its girl power in gear.
Luckily, we have Black Widow to tide us over — but surely there's room in that projected Marvel film schedule to make room for Johansson to get her own movie, right? It's time.
Watch the full — and final — trailer below.