9 Famous Women With the Perfect Response on Why They've Ditched Religion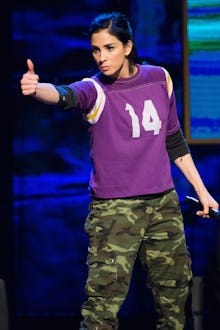 Atheists consistently rank as one of America's "most hated" groups. In fact, a 2014 Pew Research showed that the only religious group Americans dislike more than atheists (who, technically, are not a "religious" identity) is Muslims. Could it possibly be because some of the most prominent atheists also have a problem hiding their misogyny? 
Two years ago, Salon pointed out the glaring fact that the foremost leaders of atheism have been men, particularly Richard Dawkins, the late Christopher Hitchens and Sam Harris. In fact, Harris told the Washington Post that atheism's gender disparity is simply a product of the the ideological movement being "to some degree intrinsically male." Also remember that Hitchens was the guy who started the whole "women aren't funny" debate in a Vanity Fair piece he wrote in 2007.
If these guys are, collectively, the face of atheism, it is no wonder it's in dire need of a makeover. One way to do that is, to evoke Harris' lingo, to increase its "estrogen vibe." Here are some famous women who might make a better case for eschewing religion and redeeming atheism's public standing.
Julianne Moore
In an interview with the Hollywood Reporter in January, Moore said she let go of religion after the death of her mother. "I learned when my mother died five years ago that there is no 'there' there," she said. "Structure, it's all imposed. We impose order and narrative on everything in order to understand it. Otherwise, there's nothing but chaos."
Thandie Newton
In her moving 2011 TED Talk, actress Thandie Newton spoke about "embracing otherness" as the way that she was able to accept herself, even though society didn't. "My skin color wasn't right. My hair wasn't right. My history wasn't right. My self became defined by otherness," she said, "which meant that, in that social world, I didn't really exist." It was through performance and through being in touch with her passion for acting that Thandie found contentment. 
Angel Haze
Pansexual MC Angel Haze, who identities as agender, doesn't mince words when it comes to their feelings about religion, which are not surprising, considering that they grew up in a religious cult. In a 2012 interview with Complex, they clarify that they do have a spirituality but has left religion out of it. "As far as spiritual deities, I do believe in God and spirituality, even though it's going to take me a long time to get there," they told the magazine. "But it's out there."
Emma Thompson
In a 2008 interview with the Australian, two-time Oscar winner Emma Thompson said, "I regard religion with fear and suspicion." She added, "It's not enough to say that I don't believe in God. I actually regard the system as distressing: I am offended by some of the things said in the Bible and the Quran, and I refute them." Since she believes the Bible is "insufficient" at offering moral guidance, Thompson urged others to turn inward for direction: "I feel quite strongly that we need a new moral lodestone if we can't rely on what is inside our own selves."
Keira Knightley
Actress Keira Knightley joked that praying for forgiveness "sounds much better than having to live with guilt" in an interview with David Cronenberg in Interview magazine about the infidelities of conservative Christian politicians.
Beth Ditto
The Gossip frontwoman Beth Ditto has openly discussed her religious tribulations, growing up as a young lesbian in a Southern Baptist family. In a 2007 interview with Jane Bussman for the Sunday Times (London), she described how her coming out — not as a lesbian, at age 5, but as an atheist, at the age of 19 — didn't go over too well for her family. 
"Southern life really was God-fearing. Granny Ditto was a strict Pentecostal, with hair down to her knees," she told the Sunday Times. "I said in an interview not long ago that I didn't believe in God, and people called my mother saying, 'How do you feel about Beth being an atheist?'" She became an atheist, she told Bussman, because she "realized that every 2,000 years, there's a religion that happens to rule, and Christianity is just today's religion."
Helen Mirren
Like Angel Haze, Dame Helen Mirren doesn't need the institution of religion to validate or sanctify her spirituality, telling Esquire in their August 2011 issue, "I am quite spiritual. I believed in the fairies when I was a child. I still do sort of believe in the fairies. And the leprechauns. But I don't believe in God."
Ayaan Hirsi Ali
Writer-activist and Somali immigrant Ayaan Hirsi Ali has become a media celebrity through her atheism, and as someone who campaigns against religious extremism. As a former Muslim turned atheist, Hirsi Ali has drawn her share of criticism because of her unrelenting perspective on Islam as "a destructive, nihilistic cult of death." While some have described her as a kind of atheist Ann Coulter, just last month the National Review's Rich Lowry, in an op-ed for Politico, called her "a hero for our time." Hirsi Ali, who just delivered the keynote address at the American Atheists National Convention last week, is a feminist whose first policy is honesty, even if that means being blunt.
Sarah Silverman
One of the hallmarks of Sarah Silverman's comedy has been her absolute irreverence when it comes to religion. Whether it's smoking a bong with Jesus or having sex with God, Silverman dismantles the morality of religion by showing the humanity of its figureheads. Yet Silverman is critical of atheists too. In a Huffington Post Live segment, she said she thinks "atheists have that same chip on their shoulder that people who feel like their religion is the only right thing to have." Always the feminist killjoy, perhaps her critical take on atheism makes her its wild child.
Correction: April 9, 2015