Kendrick Lamar and an Industry Screw-Up Buried One of the Best Hip-Hop Records of the Year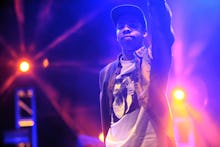 While everyone was rightfully obsessing over Kendrick Lamar's new record over the past few weeks, they mostly missed one of the best rap records of the year: Earl Sweatshirt's new album. 
Two weeks ago, Earl Sweatshirt, hip-hop's lost boy-turned-reclusive visionary and member of the LA rap collective Odd Future, released a dark, introspective masterpiece titled I Don't Like Shit, I Don't Go Outside. It includes 10 tracks of powerfully confessional raps, minimal production and some of the most evocative and depraved stories of any hip-hop record. However, thanks to the Lamar media storm and an industry screw-up, the album slipped right under the radar.
Once the dust settles, it will inevitably prove itself to be one of the strongest hip-hop records of the year.
A pseudo surprise. Earl Sweatshirt gave his label very specific instructions for how he wanted the release to unfold. He wanted to drop the video for the album's lead single out of nowhere, with a shot of a black cover reading I Don't Like Shit, I Don't Go Outside at the end. "I presume that the consumer is smart enough to put two and two together," Earl told NPR. "My whole thing was we don't need to shove it down their throats." 
However, the label did just that. When they put up the video on his website they also littered the page with a slew of banner ads, a full track list and a list of features. Suddenly, with the mystery gone, Earl's record became just like any other record. And it was totally overshadowed by Lamar's epic (and accidental) surprise release.
His anger is completely justified. His strategy would have made it clear that this record is an event. I Don't Like Shit, I Don't Go Outside is far and away Earl's most personal and fully realized album to date. It's the sound of one of hip-hop's most promising voices coming into his own.
The album. I Don't Like Shit, I Don't Go Outside is a follow-up to 2013's Doris. It paints a similar portrait of the artist as an isolated and deeply contrarian thinker — one who couldn't possibly care less about hip-hop's standardized hood politicking or establishing a super-fly swagger.
This time around, though, the portrait feels much more complete. Every aspect of the execution and delivery is perfectly in line with Earl's misanthropic and introspective vision. "[I]t's like my dissertation on myself," he told NPR. "From the music to the other side of it. Just sitting with myself. That's what, I guess, not going outside was. Just learning how to do music, learning what I liked."
He produced all but one beat under the pseudonym randomblackdude ("Off Top" was produced by Left Brain). And the lo-fi trash synths and off-kilter rhythmic stutters amplify the album's potent lyrical content. Earl discusses addiction, death and his relationship with his mother. This latter subject has been an ongoing focus throughout his career, beginning when he cussed her out on his debut mixtape and peaking when she sent him to a therapeutic reform school in Samoa in 2010. He addresses that time on "Faucet," and talks about how difficult it is to apologize for all his past transgressions. "Can't put a smile on your face through your purse or your pocket / Shit in a pile, never change, I'm stupid for tryin' / Still just too busy wildin'."
Earl also touches on his difficulties navigating industry politics on "Inside." "Gotta say that as of late I been busy with business mostly / Got a tape? Catch a wave, now you in the industry ocean / Missing out on your boat." And judging by the way his label absolutely botched his release, he'll likely have more venomous things to say next time around.
I Don't Like Shit, I Don't Go Outside is the most mature Earl Sweatshirt album to date. With minimal hooks and endlessly assonant raps, Sweatshirt is able to speak volumes with just 10 tracks. It's a skill he prides himself on: "Flexing is being able to say the most with the least amount of words," he told Pitchfork. "You know your words mean a lot if you can say something that would be cliche coming out of someone else's mouth, because people know you're saying it and you're legitimate and you've been through some shit."
Earl Sweatshirt has been through a lot and he's captured it in vivid detail. It's only too bad his album didn't get the audience it deserved when it dropped. But perhaps that will only deepen its inevitable cult classic status in the years to come.