In One Quote, Joan Jett Proves She's the Original Badass Rock Feminist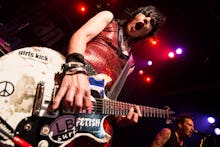 "There should be more women in the Hall of Fame, and more women in rock. They're out there, they just don't get the notice the pop girls do."
So says Joan Jett, the original badass feminist of rock 'n' roll. The icon used her upcoming induction to the Rock and Roll Hall of Fame to talk with Billboard about the glaring lack of female artists already inducted.
Jett will be inducted April 18 in Cleveland alongside Lou Reed, Ringo Starr (for his solo career), Bill Withers, Green Day, the "5" Royales, the Paul Butterfield Blues Band and Stevie Ray Vaughan & Double Trouble — all men. 
But a little male company never stopped Jett, who's been rocking the world with her female empowerment anthems since 1975 with her first group, the Runaways, an all-female band. Since then, she's gone on to a successful solo career with anthems like "Bad Reputation," a kiss-my-ass song about independent women. She's built a fruitful career around the idea that women can rock, and rock hard — and her quote about women in rock proves she's still fighting.
The start of a rock feminist. When Jett was 15 years old, she joined the Runaways, an in-your-face glam-rock outfit fronted by Cherie Currie. They were the first mainstream all-female band to play real, guitar-driven rock 'n' roll, and their hit "Cherry Bomb" sent parents around the world clutching at their Bibles. 
The band broke up after four years, in part because of internal strife but also because they weren't charting. "The entire concept of the band — teenage girls playing their own instruments and singing frankly and enthusiastically about sex, booze and life on the streets — was simply too discomforting for much of America," AllMusic.com wrote. 
But that didn't stop Jett from embarking on her own, even though she was told from a young age that women couldn't play rock 'n' roll. "Even as a kid, it was so illogical to me — it's like, what do you mean? That girls can't master the instruments?" Jett told Interview Magazine. "You don't mean they can't master the instrument. What you mean is they're not allowed, socially — it's a societal thing." 
Her bad reputation. Despite the obstacles for a woman in the rock music industry in the early '80s, Jett's first solo single, "Bad Reputation," cemented her status as a genuinely good songwriter. As legendary music critic Robert Christgau wrote for the Village Voice at the time, Jett was "tuffer than any gurl in history."
After her solo release, Jett formed Joan Jett & the Blackhearts in the early 1980s. Their first hit, "I Love Rock 'n' Roll," became Jett's most successful song of her career; the classic spent seven weeks at No. 1. That track, originally a B-side, along with "Crimson and Clover" wrote Jett into the rock 'n' roll history books.
Surveying her legacy. Looking back on her career, Jett says the power and sexuality dynamics that were so risqué back in the late '70s and '80s are still somehow risqué today. "It's funny how little has changed since the Runaways formed," she told Interview Magazine. "If [women in rock 'n' roll] try to be sexual or use their sexuality in a powerful way, they're judged much differently than men." 
That's a cause she's taken up again with her nomination to the Hall of Fame. "Go to any city and there's an all-girl rock band — it's just a matter of society wanting to hear that kind of music," she told Billboard. "But people's tastes change, so you have to just do what you love and hope other people love it too."
Jett has done more than just speak up for female rockers — she's put her money where her mouth is. Jett produced original riot grrrl band Bikini Kill's single "Rebel Girl," and recorded with all-girl grunge band L7.  Women in rock have made huge strides since the Runaways first picked up their instruments, but sexism in music is still prevalent. 
Yet thanks to trailblazing artists like Jett, along with Janis Joplin, Stevie Nicks and Grace Slick, to name a few, seeing women in rock bands has become more the norm. When she's inducted into the Hall of Fame in April, Jett's history of championing female empowerment is inducted too — and that's one more step toward the gender equality in rock 'n' roll that women deserve.