Meet the Brave Women Behind China's Very First Modern Feminist Movement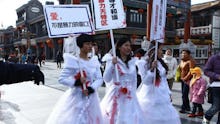 Zheng Churan. Wang Man. Wu Rongrong. Wei Tingting. Li Maizi. 
These are the five Chinese women, ages 25 to 33, whom the Chinese government have detained on charges of "picking quarrels and provoking troubles," the New York Times reports.
That's shorthand for being feminist activists and shaking up the status quo. One of their best-known actions includes taking to the streets in blood-splattered wedding gowns to protest sexual violence against women.
"They have been very successful in using performance to provoke social dialogue on gender issues," Zeng Jinyan, a blogger who studies Chinese feminist activism, told the New York Times. "I think we can call them the first modern, independent, feminist, grassroots actors in Chinese history."
These women, fighting gender injustice and known for guerrilla theatrical demonstrations, remind the world of Pussy Riot, the band and social justice group that was detained by the Russian government for disseminating propaganda. The question is, will the world protest their detainment and advocate for their release, like they did with the three women of Pussy Riot?
Rebel girls: Chinese police detained at least 10 women, including these five, on March 6, the eve of an anti-sexual violence demonstration the group had planned for International Women's Day on March 7. Half the women were released March 8, after a round of interrogations, but the remaining five have been in jail ever since and "subjected to near-constant interrogation," their lawyers told the New York Times.
As Emily Rauhala noted in Time, the Chinese government has taken to "censoring the Internet, banning books and jailing dissidents." These feminists' detainment is particularly controversial because the government has construed them as a threat.
The group Gender in China posited the government should not be threatened by some street performances against sexual violence. Yet, Asia Society writer Eric Fish noted in an interview with NPR, it is the ripple effects of their protests that has the government taking extreme preemptive measures. "People have made the argument that there are things about feminism that irk the government," he said, "but it's more, I think, their ability to organize people, not just in one location, but across the country."
According to the New York Times, the detainment is a part of a larger strategy to contain women and prevent future activism, as "security agents from Beijing fan out across the country hunting down the volunteers who took part in the women's theatrical protests."
#FreeTheFive: Women and equality advocates around the world are slowly learning about these women. A hashtag campaign, originally #FreeBeijing20Five, was created to raise global awareness about the detainment. Even Hillary Clinton threw her hat into the ring on behalf of the release of these women — which the Chinese government was not too happy about.
In addition to this global response, because two of these women are lesbians and one is bisexual, the LGBT organization All Out started a petition for their release. More than 86,000 people have signed, of a 100,000-signature goal.
The fate of these young women is still a mystery. The government hasn't clarified the extent of their charges, Fish told NPR, and they could serve up to "10 years if [government officials] consider that they've [picked quarrels and caused a disturbance] more than once."
One thing is certain. As Clinton said at the U.N. World Conference for Women, held in Beijing in 1995, "Women's rights are human rights." If China wants to be a global economic leader, it should start acting like one.