This Is What the Right-Wing Campaign Against Rand Paul Is Going to Look Like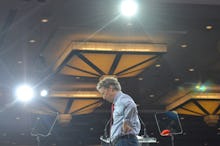 The campaign against Sen. Rand Paul (R-Ky.) began before his campaign for president was formally announced.
Less than 24 hours ahead of Paul's kick-off event on Tuesday in Louisville, Kentucky, a shadowy outside group with ties to establishment Republican interests launched an offensive to condemn the candidate's foreign policy positions, which tend to be less aggressive than those of his likely opponents in the GOP nominating contest. 
On Monday, the "Foundation for a Secure and Prosperous America," a nonprofit 501(c)4 organization, posted a 30-second clip accusing Paul of "supporting President Obama's negotiations" with Iran and "not understanding the threat" that would follow if the regime attained a nuclear weapon. The truth, however, is a bit more complicated. Despite his vocal support for the idea of attempting to find a diplomatic solution, Paul signed a letter authored by his Republican colleague, Arkansas Sen. Tom Cotton, aimed at scuttling those negotiations. He has also pledged his support for new sanctions on the Iranian government.
The ad will begin to air this week in a number of early voting states, including Iowa, New Hampshire, South Carolina and Nevada, according to the New York Times. Watch the clip and get a taste of what's to come below:
The ad's backers: The operative running the group, which is not required by federal election law to disclose its donors, is Rick Reed, a GOP provocateur better known for his role in a smear campaign against 2004 Democratic presidential nominee John Kerry. Reed helped craft a number of ads for the "Swift Boat Veterans for Truth" PAC, another outside group with no formal affiliation to an opposing candidate, dedicated to derailing Kerry's candidacy and casting bogus doubt on his military service during the Vietnam War.
Paul is banking on his libertarian credentials, derived in part from his father, former congressman Ron Paul, to win the support of young voters, libertarian true believers and enough mainstream GOP voters to upend a wide and well-funded field of primary opponents.
This ad campaign, valued at about $1 million, according to the New York Times, provides just a small glimpse of the forces dedicated to making sure that coalition never comes together.
"Rand Paul is wrong and dangerous," the ad says as an image of a mushroom cloud appears on the screen. "Tell him to stop siding with Obama, because even one Iranian bomb would be a disaster."
Over the top? Certainly. Fair? Not really. Regardless, Paul and his campaign should get used to it.