Jhené Aiko Just Released the Most Heartbreakingly Beautiful Video You'll See Today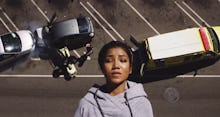 R&B singer-songwriter Jhené Aiko is truly a master of evocative and heartfelt soul. Her album Souled Out, released September 2014, was one of the most serenely beautiful records of the year. And she's still deepening its legacy. Aiko has just put out a new video for one of the album's more somber cuts, "Eternal Sunshine." The video only intensifies the song's beauty.
The video's simplicity is one of its most compelling aspects. Jhené is at the bottom of the frame for the entire video as the camera slowly pans out to reveal the aftermath of a devastating car crash. A small girl in the backseat lives; her parents likely die. Split-second cutaways show memories of the family playing and laughing together. One of the last is Aiko buckling her daughter into the back seat and giving her a quick kiss on the forehead.
Aiko dedicates the video "In loving memory of Miyagi Hasani Ayo Chilombo," her late brother who passed away in 2012 after losing a battle to cancer. She writes in the dedication, "To #4 from #5, you are my eternal sunshine." That phrase — "To #4 from #5" — appeared in a poem Aiko shared on her Tumblr a year ago, which also seems to refer to a lost love one:
"'How do you feel...? / ...... /  I'm so afraid I'll forget you' / and you say, / 'I'm scared that you never will.'"
Aiko clearly hasn't forgotten — she's just trying to remember "all of the good things," as she sings. With this song and video, she's captured a portrait of that struggle in a tragically beautiful and ultimately life-affirming style.