To Save Drought-Ridden California, Hipsters Need to Lay Off the Almond Milk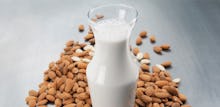 People are going nuts over almonds in California — but not because they're so delicious.
While California continues to suffer under its fourth year of a devastating drought, Central Valley almond farmers are pumping more water than Los Angeles and San Francisco combined. According to a Mother Jones analysis, it takes a gallon of water to produce a single almond. 
Just imagine how much water is being used when you grab a handful of nuts or a glass of almond milk for your midday snack. 
Almond production is higher than ever in the Golden State. Over 80% of the world's almonds are grown in California across 800,000 acres. Rabobank analyst Karen Halliburton Barber told the Los Angeles Times that the U.S. "is the 800-pound gorilla of the global almond industry." But at the same time, over 93% of the state continues to face severe drought.
The real cost of almonds is measured in precious water: According to Mother Jones, California's almond industry sucks up nearly 3.5 billion cubic meters of water per year — well over three times the amount of water that all of the homes and businesses in Los Angeles consume combined. Pretty much all of the California almonds, which were collectively worth approximately $5 billion in 2012, are grown in the state's worst-hit drought areas in the Central Valley. 
Pistachios and walnuts are also major drains on the state's water, consuming more than 1 billion cubic meters altogether. All told, almonds consume over 10% of the state's agricultural water.
Each person in the U.S. consumes around 2,842 cubic meters of water per year, according to the New York Times. Even though this number is high by international standards, it pales in comparison to even a small field of almonds.
Farming in the middle of a drought is expensive, even when the produce in question isn't a high-cost luxury good like almonds. One recent report by the University of California, Davis estimated that during the current drought, farmers have spent $500 million pumping extra groundwater, and the total economic costs to the state have surpassed $2.2 billion. Study co-author Richard Howitt told the Guardian that the root of the problem was water mismanagement, and that farmers of all crops should monitor their groundwater use more carefully.
"The problem is that California, because of its failed institutions for managing water, is allowing these almonds to come on market at $3-$4 a pound wholesale, when the price would be tripled if California was managing its water sustainably and farmers faced the real cost of water," Leiden University College economics professor David Zetland told the Guardian.
California Department of Water Resources spokesman Doug Carlson tells Mic that agriculture consumes around 80% of the state's H2O. He says in the event the drought continues long enough that the state finds itself beginning to run dry, California could simply redirect the water to citizens. In the meantime, the Los Angeles Times reports: "The Metropolitan Water District of Southern California is expected to vote next week to ration imported water that it supplies to 26 Southland water districts and cities, something the agency has done only twice before."
Why you should care: Almonds enjoy a reputation as healthy, sustainable product. But in an era of unprecedented concern over water use in the state where the vast majority of it is consumed, those beliefs look a lot more tenuous. As California enters an uncertain future where mega-droughts may become much more common, using billions of gallons of water to produce heaps of almonds may become an unsustainable practice.
So while almonds and almond milk may not be the root of the problem, it's still worth keeping these numbers in mind and maybe cutting back on the almond milk. They water it down, anyways.
Correction: April 7, 2015
Correction: April 10, 2015