Rand Paul, Enemy of the "Washington Machine," Wants You to Forget He's a U.S. Senator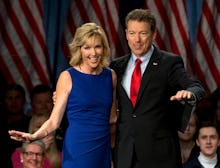 Sen. Rand Paul (R-Ky.) kicked off his presidential campaign Tuesday with a promise to defeat the "Washington machine that gobbles up our freedoms," a jarring turn of phrase meant to burnish the coveted outsider status that presidential candidates strive to attain every election season.
On the hour of his formal introduction to the 2016 race, Paul and his supporters — notably the several speakers who came before him — were remarkably careful to obscure or deflect exactly what the candidate had been doing for the past four years (i.e., working in Washington). In fact, the only speaker at Louisville's Galt House hotel to identify Paul as "senator" was his wife, Kelley, who introduced her husband nearly an hour after the festivities began.
If the goal was to downplay Paul's time in Congress and cast him as a virgin crusader, as it quite obviously was, then organizers get an "A" for effort.
"Dr. Paul," "physician Dr. Rand Paul," "future president" and "coach" — of his sons' Little League teams — were among the numerous titles and pronouns used to identify the candidate, who is, without fail, referred to as "senator" during his days on Capitol Hill in dreaded Washington, D.C.
Paul was equally careful to erect barriers between his candidacy and the city in which he's worked since January 2011. In his speech on Tuesday, he repeatedly cast himself as a skeptical foreigner, rather than one of the 100 lawmakers jamming up the gears in the U.S. Senate.
"I've been to Washington," he said, like a reluctant tourist, "and let me tell you, there's no monopoly on knowledge there."
Not even his father, former Rep. Ron Paul, who spent parts of five decades in Washington, D.C. and ran for president three times, was directly named by the son, who was vague in his opening salute.
"I never could have done any of this, though, without the help of my parents who are here today," Paul said as he began his remarks. "I'd like you to join me and thank my mother and dad."
None of this happened by accident, and none of it will have escaped the notice of Paul's primary opponents. Expect to hear lots of "Sen. Paul" in their ads as they try to tie Paul to Washington — especially when the whole gang gets together in Cleveland this August for the first in a series of barnstorming debates.