In One Tweet, ESPN Shows Off Its Woman Problem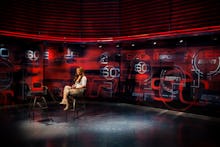 Women's basketball is a storied and decorated sport with legions of fans and a number of lucrative endorsement deals with big brands. Yet according to ESPN's SportsCenter, women's basketball isn't worth a spot next to men's basketball. 
On Tuesday, following Duke University's victory over the University of Wisconsin in the NCAA men's championship game, SportsCenter's Twitter account posted the following tweet to its followers:
Coach K — Duke's Mike Krzyzewski — had just brought his team to its fifth championship victory; John Wooden was the late UCLA coach who won 10 championships over a 12-year period. According to SportsCenter, these two men sit at the top of the coaching throne.
Simple enough, right? Except that, as dozens of Twitter users quickly and loudly pointed out, there are other college basketball coaches who tout more victories than either Krzyzewski or Wooden — but they're coaches of women's teams. 
Twitter user Stacey Gordon pointed out the massive gap:
Others users highlighted Geno Auriemma, the head coach of the University of Connecticut's Huskies women's basketball team, who has won nine titles, and Pat Summitt, the former University of Tennessee women's basketball coach who won eight national titles.
Though the NCAA comprises both men's and women's teams, SportsCenter neglected to consider the latter category in its tweet — an oversight that, while certainly not the worst thing in the world, is a smack in the face to the players, coaches and fans who avidly support the industry and have made history participating in it.
ESPN, it should be noted, isn't all bad when it comes to women's basketball. It broadcasts the games and provides analysis, much like it does the men's basketball. But as Gordon so aptly put it, it's up to SportsCenter to "lead by example" — if the worldwide leader in sports can't be bothered to include storied women's sports figures in a simple tweet, then the rest of the sports world won't have any reason to do differently.