The Story of How Kanye Became Famous Will Make You Appreciate Him Even More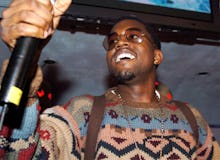 Kanye West might be the easiest celebrity to ridicule. He brings it upon itself most of the time, courting criticism with divisively bold musical and creative decisions and outrageous quotes. But those choices have earned him 21 Grammys, three albums on Rolling Stone's "500 Greatest Albums of All Time" and opportunities to collaborate with the biggest names in music, fashion and film. Kanye may think too much of himself, but he isn't necessarily wrong.
To get to these incredible heights, Kanye has had to fight. He's worked for every opportunity he's received. And he's proven time and time again that he deserves the spotlight — that he isn't just a celebrity, he is an artist. The story of how he became famous only proves it.
His beginnings. Kanye was born to Donda West, an English professor, and Ray West, a former Black Panther and influential photojournalist. His parents divorced when he was 3, and Donda West raised him by herself. Kanye still saw his father during the summers, and Ray West had a lasting effect on Kanye's temperament.
"Like his dad, Kanye has little patience for what he thinks is unjust," writes Donda West in her autobiography, Raising Kanye. "If he sees a president leave human beings stranded on rooftops for days at a time, his passion and compassion will outweigh his patience."
Donda. Donda West was a massive force in helping Kanye develop his burgeoning musical talents. "My mother was my everything," Kanye told MTV News in 2005. She supported him throughout the beginning of his career and helped him keep faith in himself. She's had a lasting influence on his music, immortalized on songs "Hey Mama" and "Coldest Winter." 
Kanye's mother helped a 13-year-old Kanye pay to cut his first record in a dingy basement studio. "The microphone was hanging from the ceiling by a wire hanger. But he was so excited, I couldn't say no," Donda West told RedEye in 2007.
The track, called "Green Eggs and Ham" was a "'90s-sounding, yelling-type record," as Chicago producer No I.D. described it when he heard it years later. Kanye's mother knew No I.D.'s mother, and got the two mama's boys working together. 
No I.D. taught 'Ye the basics. "He was just learning how to make music, but he was the most persistent person who I've ever met." he told Billboard. "He was always trying to prove himself, and he kept getting better and better."
Kanye's drive. That persistence would serve Kanye well when he started to turn all his energy towards music. He attended the American Academy of Art on scholarship for one semester, but his family couldn't afford to pay once that scholarship ran out, so he transferred to Chicago State University, where his mother taught in the English department. Eventually he quit that as well to pursue music. It broke his mother's heart, but she agreed to allow him to live under her roof if he paid her rent. She gave him a year to work it out.
"I really started grinding, just trying to sell beats to people. I worked a telemarketing job," Kanye told Complex. He'd come home from work and just work on his music. According to Jake Brown's biography of the rapper, Kanye "would be up until 4 in the morning ... focusing on my dream and praying for the day where I could just do that all the time."
'Ye's first big break came when he sold a beat to a Chicago rapper named Gravity for $8,000. His second followed after he sold a beat to Jermaine Dupri for the track "Life in 1462," after relocating to New Jersey to shop his demos around New York. He then produced for Mase, Foxy Brown, Dead Prez, Goodie Mob, Lil' Kim and eventually Jay Z, for whom Kanye produced several classic cuts on his opus The Blueprint, including the album's first single "Izzo (H.O.V.A.)."
But Kanye was not satisfied just producing other people's hits. He wanted to rap and write his own. And he rhymed for anyone willing (or unwilling) to listen.
That meant that he began nagging Jay Z, who was initially hesitant to sign Kanye. Always the businessman, Jay wasn't sure Kanye's college-educated, pink polo, backpack-wearing style would work in the gangster-driven rap game. When Kanye began to close a deal with Capitol, he eventually took a risk on the rising star.
But Kanye didn't get a shot at actually prioritizing his album until after almost dying in a car crash on Oct. 23, 2003. While he was in the hospital, he had a vision.
"I remember when I first talked to him after the accident, and his mouth was all messed up," No I.D. told Billboard. "He was like, 'I figured it out.' I was like, 'What did you figure out?' He said, 'I'm going to rap about this accident. I'm going to use a song and change the direction. I'm going conscious with my music.'"
Kanye later recorded "Through the Wire," rapping with his jaw literally wired shut. His rhymes were hilarious and spoke of an entirely new direction for rap — one that wasn't obsessed with "coke and birds" and could tolerated more nuanced stories.
That mixtape proved his merit as a rapper. It allowed him to finish his first record. That became The College Dropout, an album that defined Kanye along the same lines he explored on "Through the Wire."
"The name of my album is called The College Dropout," Kanye told MTV two years before it debuted. "All that's saying is make your own decisions. Don't let society tell you, 'This is what you have to do.' Society told me, 'Man, don't move from Chicago.' People told me to stay in school, this music is this, this music is that." But Kanye paved his own way. He's lived this philosophy throughout his life, and he's truly an inspiration for anyone trying to make it in a highly competitive creative industry. 
Kanye may talk a big game. That's because he's playing one.