Shocking Video Shows a South Carolina Police Officer Fatally Shooting Black Man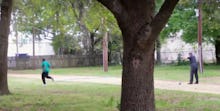 A South Carolina police officer has been charged with murder following the release of a graphic video, which appears to show the officer fatally shooting a black man in the back as he runs away. 
A bystander filmed the four-minute long video, published by the New York Times Tuesday night after it was provided to the outlet by the slain man's lawyer. It shows the run-in between the officer, Michael T. Slager, and Walter L. Scott, who was stopped for a broken tail light.
The New York Times reports:
The shooting unfolded after Officer Slager stopped a Mercedes-Benz with a broken taillight, according to police reports. The driver, Walter L. Scott, 50, ran away, and Officer Slager chased him into a grassy lot that abuts a muffler shop. He fired his Taser, an electronic stun gun, but it did not stop Mr. Scott, according to police reports.
However, the video shows a different scene: 
While police reports indicate that Slager said Scott took his Taser, the video appears to show something different: "Something — it is not clear whether it is the stun gun — is either tossed or knocked to the ground behind the two men and Officer Slager draws his gun, the video shows," the New York Times reports.
Earlier, David Aylor, an attorney for Slager, said that "his client felt threatened when the driver tried to overpower the officer and got his Taser," according to WLXT, and that "Slager feels he properly followed all procedures before resorting to deadly force."
However, in light of the video, Aylor, told the Post and Courier Tuesday he was "no longer involved in form or fashion" with the client.
"I became involved on the day of the incident," Aylor told Mic via phone. "As of today I am not involved."
According to News 2, "[Charleston Mayor Keith Summey] says the video is demonstrative of exactly what happened. The mayor said it was a bad decision made by one officer ... Officials with [South Carolina Law Enforcement] provided the police with the video footage of the shooting, and as a result, North Charleston Police Officer Michael Slager will be charged with murder in connection with the shooting."
Immediately following the release of the video, reactions were appalled: 
Though the act of shooting a fleeing suspect seems bad enough on its merit, it's also clearly illegal. A 1985 Supreme Court ruling struck down a Tennessee law and made it illegal for a police officer to shoot unarmed fleeing suspects if there "is no apparent threat of harm to police officers or others," reports the Los Angeles Times.