One Hashtag Sums Up How Sexism Doesn't Disappear With Age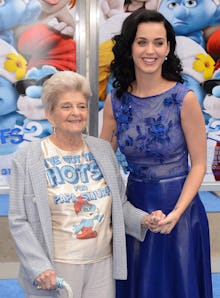 Older women have it tough. Whether it's high unemployment, ignoring the fact that they have sex lives or just plain old age discrimination, these women have lived through it all and still have to deal with sexism. 
But one group of activists is taking on social media to make sure we all know about it. The U.K.-based Everyday Sexism Project recently co-hosted a Twitter chat under the hashtag #OlderWomenVoices. Scottish politician Margaret Curran, who recently launched the Scottish Commission on Older Women, and former BBC presenter Miriam O'Reilly, who won an age discrimination case against the BBC in 2011, joined the conversation.
Participants discussed the alarming economic disadvantages they face:
These women talked cold, hard facts on aging (that have nothing to do with wrinkles):
And who's defining sexiness for older women anyway? 
Of course, they also just experienced plain old sexism:
As O'Reilly noted, sexism and ageism go hand-in-hand:
Hopefully 20-something Twitter users can witness this conversation and not only be personally aware of future challenges they may face, but inspired to stand up against ageist sexism when they see it in their daily lives.