Google's New System Could Shield You From Spoilers Online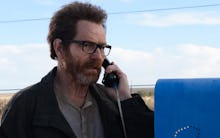 Still afraid of finding out if Walter White lived or died at the end of Breaking Bad? A new patent from Google reveals that, soon enough, you may be able to use Facebook the night of a big TV season finale without fear of being spoiled.
As first reported by Quartz, Google filed a patent with the U.S. Patent and Trademark Office that, if brought to fruition, would automatically obscure posts about movies, TV shows and books to prevent twists from being revealed to unaware readers. If it were to work, Google would have solved one of the biggest problems plaguing the social web: designing a spoiler alert ingrained into users' online lives.
The patent suggests that development would be monitored somehow — note in the diagram above that in a group of readers, progress bars display how far three users have read. If one of the readers has read more than another, their message will appear cut off. Only after prompted that a spoiler may be in the text would they be able to view it. 
While it's not yet entirely clear how Google would collect and analyze this data to make the program accurate, given the amount of personal data the company is already collecting through a myriad of avenues, it's not totally surprising they'd have this capability. 
For a TV audience that is increasingly relying on a la carte programming, such an invention would be invaluable. Programming blocks like ABC's #TGIT (Grey's Anatomy, Scandal and How to Get Away with Murder) have made Twitter a minefield for fans of any heavily live-tweeted shows. There have been temporary fixes, like a Google Chrome plug-in that censors some spoilers on social media. This patent, however, is the first attempt at a fix from a major company.
It's still a dream for now, though. As to whether or not this product is actively in development, Google isn't saying. A representative for the company told Quartz that certain patents "mature into real products or services, some don't." Even if it were to become real, it wouldn't solve the whole problem. Spoilers remain a sensitive subject, be it about news organizations reporting the winners of awards shows or real life getting in the way. Those debates wouldn't end with this invention.
Still, Google's anti-spoiler patent is a sign it might soon become easier to live on the social web without fear of ruining viewing and reading experiences. That's news worth sharing, no spoiler alert needed.