Report Claims U.S. Soldiers Committed Sexual Assault Against Colombian Children for Years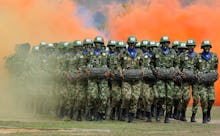 The Colombian government released a report earlier this year accusing U.S. military contractors in the country of dozens of cases of rape and sexual assault against children between 2003 and 2007. 
The findings were issued last month in conjunction with the leftist rebel group FARC — a somewhat surprising tandem considering the group is best known for acts of domestic terrorism and kidnapping inside Colombia. The report was issued as part of an 800-page study by the jointly formed Historical Commission on the Armed Conflict and its Victims in Colombia.
Renán Vega Cantor, a left-wing professor at the Universidad Pedagógica Nacional de Bogotá, edited the section covering U.S. transgressions and was scathing in his assessment.  
"In Melgar and neighboring Girardot, 53 minors were sexually abused by mercenaries, who also filmed and sold the tapes as pornographic material," Cantor wrote, according to a Daily Beast translation. "Also in Melgar, a contractor and a sergeant in the United States raped a 12-year-old girl in 2007. Both their activities, as well as their immunity, contribute to the insecurity of the population in conflict zones." 
That 12-year-old girl was Olga Lucia Castillo, who had gone out with her younger sister to buy food. 
The U.S. response: In an email to Mic, Christopher Grey, chief of public affairs at U.S. Army Criminal Investigation Command, said the U.S. was investigating. 
"We take this issue very seriously and will aggressively pursue all credible allegations." Grey also forcefully shot back against the claims of Cantor and Castillo saying, "The allegations were unfounded by CID and legal authorities as well as by local authorities. Furthermore, CID Special Agents attempted to interview a victim in Colombia, but her attorneys declined the opportunity for our agents to interview their client."
Inquiries made to the Colombian side via the Office of the High Commissioner for Peace were not immediately returned.
An international problem? While the true extent of the Colombia allegations are unclear, U.S. soldiers undoubtedly have a sordid history of assault and abuse in many of the countries where America maintains a military presence. And unlike Colombia, with its restrictive bilateral treaty, they are punished.  
In the Philippines, a trial began last month in Olongapo in the case of Marine Pfc. Joseph Scott Pemberton, who is accused of murdering a Filipina woman after he learned she was transgendered. 
Japan meanwhile, sentenced two U.S. servicemen to nine years and 10 years for a 2012 rape they committed on the island of Okinawa. 
In South Korea, prosecutors recommended 15 years for Pvt. Kevin Lee Flippin, who was found guilty of raping and burning a 17-year-old girl. 
Army newspaper Stars and Stripes noted that the status of forces agreement between the U.S. and South Korea stipulates that heinous crimes, like Flippin's, should be turned over to local jurisdiction if requested by authorities.
Taking a step back, it's hard to write off 53 accusations of sexual assault. Given the military's troubled past in similar cases, America is doing the right thing by taking the allegations seriously and investigating all credible leads. Going forward, these claims should be treated no differently than if they had happened in the United States with evidence and facts leading the way. Nobody should be allowed to escape justice hiding behind treaties. 
h/t Daily Beast