Boston Just Proved It Might Be the Coolest — and Most Feminist — City in the US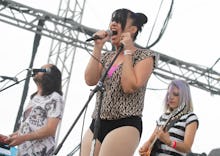 Feminist rocker and contributing founder of the riot grrrl movement Kathleen Hanna may have expected a warm greeting from her Boston fans for her April 9 performance in the city. She might not have expected the city to name the day in her honor.
Yet that's exactly what Mayor Marty Walsh and Chief of Policy Joyce Linehan did. Starting this year, every April 9 will be known as 'Riot Grrrl Day' in Boston.
Hell. Yes.
Why the new holiday? "Because we can do that sort of thing here," Linehan — who knew Hanna from "back in the day ... from the indie rock world" — told Boston Magazine. 
According to the magazine, part of the manifesto Walsh signed reads, "The riot grrrl philosophy has never felt more relevant, with misogyny still rampant in many cultural spaces. ... Riot grrrls redefine the language used against them and continue to fight the newest incarnations of patriarchy."
The riot grrrl movement — a feminist response to the male-dominated, largely sexist world of punk rock — saw its heyday in the 1990s. Hanna's band, Bikini Kill, as well as the Carrie Brownstein-fronted band Sleater Kinney and many others, promoted revolutionary lyrics that tackled issues like sexism, sexual assault, sexuality and other issues women deal with.
Above all, riot grrrls encouraged women to embrace their power and take center stage.
Boston's proclamation reflects this empowering goal: "Our young women can't be what they can't see," it states, according to the Boston Globe. "Girls need to see other girls picking up drumsticks, basses and microphones. They need to see other girls picking up paintbrushes and pens, and telling their stories. Loudly."
Hanna, who is also a member of the bands Le Tigre and The Julie Ruin, recently spoke about using her platform to combat music industry sexism in an interview with Vanyaland as well: "Sexism and racism and homophobia and classism are so naturalized. ... When someone stands up at your show and says take it off, it's like, 'Thank you for letting everybody know that sexism is alive and well in this room and in punk rock and even though we're supposed to be living this alternative lifestyle that what I'm still doing is very important because, look, this guy exists, and there's a lot of guys in this room who are thinking the exact same thing.'"
Perhaps other cities will take note — if not by devoting days to other riot grrrls, than at least by also boldly acknowledging that powerful women deserve recognition so that young women can follow their lead.