De La Soul Talks the Group's Bold New Album and Legendary Past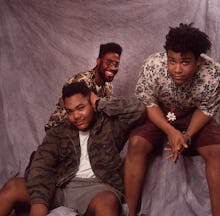 De La Soul has always been at hip-hop's vanguard, ever since they helped establish the genre in the '80s. They've been hippies, streetwise sages and cybernetic R&B crooners, proving hip-hop can encompass a kaleidoscope of styles and sounds. Now, 11 years since their last full-group studio LP, they're gearing up to revolutionize their sound once again. Two weeks ago, De La Soul launched a Kickstarter campaign to announce a new album, And the Anonymous Nobody. They met their $110,000 goal in a single day. 
On Wednesday, Posdnuos, aka Kelvin Mercer, aka the group's Plug One, spoke with Mic about the group's new undertaking. He talked about how their creative process evolved over time and nodded to some of today's rappers he feels share that same perspective decades later.
Mic: Congratulations on your Kickstarter. One day. That's incredible. How much of that did you guys anticipate?
Pos: I mean, you know, you wanna be the person that's saying, "Hey, we're De La Soul, of course we did that." You say you wanna do it and you're gonna do it because you think positive. But I guess those butterflies in anticipation — you never know what's going to happen. And for that to happen in one day? In like nine hours or so? That was just amazing.
Mic: You mention in the Kickstarter video that you're doing this in response to the sampling lawsuits you went through. You guys were involved in those first few big lawsuits shaping the standards the industry has. The first was with the Turtles in 1991. What was that like for you?
Pos: It was definitely a shock in the negative sense. I just feel bygones is bygones, but we had handed in all that information to the correct people at Tommy Boy Records, which is what we were on at the time. 
I believe that there was a crowd of people internally who loved the album. But since there wasn't a group before us that tested the waters, to show our label that what we were doing could be successful, we were pretty much the first of our kind. So I guess they didn't clear certain samples because they didn't think the album would sell. They looked at it like, "It's a skit on their album. Why clear the song with the Turtles?" And that's what happened. 
We had their legal people reach out and place a suit upon us. The funny thing that I always tell people about this story is that in meeting their lawyer, he was a fan of our music. He even asked that — while handling the legal process — he wanted an autograph.
Mic: Last year, you guys released all your music as a free digital download. What was the thinking behind that?
Pos: It was an organic response to years of people wanting our music and not being able to get it — seeing new listeners interested in learning about us because they found out or learned about us through a record or a feature with the Gorillaz. New fans were coming along like, "Hey man, love the song you did, but I've been trying to find your other stuff, because I hear so many great things about you. I could only see this random video on YouTube, etc." So it was a response like, "You know what? That would be an amazing statement on Valentine's Day to show our appreciation to the people who love us and give them our music." And that's what we did.
Mic: Was there any backlash? How did the label respond?
Pos: So far there hasn't been any major backlash. I'm sure that the label wasn't happy about it. But I would hope they did think, "Wow, look how many millions of people attached themselves to this situation because they love the music." And that maybe helped ignite a dollar-and-cents reading for them, like, "Hey man, we gotta take care of this situation, because we don't gotta be De La Soul fans to realize the money we could be making."
Mic: Let's go back to the beginning — 3 Feet High. That first record earned you the label of the "hippie" group — the way that you guys preached peace and love. Did that reputation feel appropriate?
Pos: It was cool at first. But it isn't all of who we are. We purposefully named ourselves "De La Soul" because we came from the soul, and whatever we learned, that is where we were gonna be. That's why De La Soul Is Dead was completely different. People thought that was a bad move for our career, but that's also why I think we can still stand here. We continued to change as we grew up — as young boys becoming men — and that's what we wanted to do.
Mic: You, Q-Tip and Jay Z are the first class of hip-hop elder statesmen. How do you feel the genre is going to change as more of the original founders age and their perspectives on life and music change?
Pos: Something is dead if it isn't changing. It may not necessarily benefit you to where it's changing, but you have to respectfully understand that and not be upset about it. And I think some of the people you name alongside us — like A Tribe Called Quest — that's what they did: They continued to evolve. They weren't the same as the group as on their first album by their second album. 
That's why I feel blessed, standing here now, to do this new album. [Fans] as well look to be a part of what's been missing in the music, which is a balance in the genre. A lot of what's going on is cool, but there's not a balance on each side. You don't have 80 Kendricks, amongst 80 Drakes, amongst 90 Young Thugs. There has to be a balance of music and you don't hear that.
Mic: What do you think of the new Kendrick Lamar album?
Pos: I love the new Kendrick album. He's always been an amazing artist and lyricist. It's great to see growth. It's great to see a person who's thinking of how he can challenge himself. It's what we've always tried to do; it's what Outkast has done; Tribe, what they can do. There's a lot of artists trying to make an art piece, and that's what I think he's done. 
I love it — and I truly appreciate it — because it adds to that. It adds to what D'Angelo just did. It doesn't have to be controlled by that "make sure you add this person just for the look" mentality. If I recall, [Kendrick] had George Clinton, or even seeing Ron Isley — they're on the record for like four bars. I thought that was cool.
It's what we're doing already on our own, in what we've constructed for the album. We'll have singing all the way through, and we rhyme for the last two minutes of the record. We have things like that that's going on this particular album. And I really think people are going to love it and be moved by it.
Mic: What are the lyrical concepts you're trying to hit on the record?
Pos: Whatever's going on in our lives; I've always been big on that. If I've got a problem with my kid's moms, you're gonna hear it. All that reflection of where we are in the moment will be addressed, like a journal, throughout the music. Once again, the regular person — because we feel like ourselves, we are regular people – will connect to that energy that we're bringing.
Mic: One thing I've always admired about your music is the humor you bring to it. What's the value you see in that?
Pos: To be quite honest, sir, we're silly guys. [laughs through the next few sentences] We like to have fun. In the next life — or hopefully in this life — we just need to be like a writing team for some comedy show because we're all day — all day — coming up with skits and silly stuff to do. It's always been thought of a little differently than the songs. But the skits are just right there, neck and neck.
Mic: Are there any other artists you admire right now?
Pos: I'm truly a student who listens to what everyone do. So I mean, there's stuff that I love from 2 Chainz; there's stuff that I love from Drake. Whether it's Kendrick, Action Bronson — it could be everything. I always feel I can take something from what's being presented. There's a Juicy J record I love; there's a Wiz Khalifa record I love; there's a new [Talib] Kweli record...
At the same time, I don't love everything that they all do. Sometimes I hear artists with great lyrics, but it's the same thing repeatedly. That even inspires me to be like, "Yeah, why didn't they talk about this? I feel like they're really good lyrically, they could've talked about it from this perspective, this aspect." And then I write that down for myself. "They talking about drug dealing again, but why didn't they write it from the perspective of, how people say, a fly on the wall?" So I'm talking from the fly-on-the-wall perspective. 
Mic: It's funny that you mention Action Bronson — he's kind of owning the skit game too, which you guys helped bring in to a central place in the genre. He's owning that comedy aspect.
Pos: I agree. Outside of just being a great rapper, he likes to have fun. He feels confident to say, "I can still make fun of myself." I think that's always what De La has been about too. We've never been egotistical guys who feel we have to protect ourselves. And when you hear this album, you're gonna feel that. You're gonna enjoy it.
Mic: Looking back over your catalog you've got AOI 1, AOI 2 [the first two records of the Art Official Intelligence trilogy] — and that promised third one never showed up. Does it ever bother you that you never finished that trilogy?
Pos: It does. It doesn't necessarily personally bother me, but I do feel like, "Wow, we never got a chance to finish it." I mean, it was just unfortunate. When Tommy Boy had to close down and we went over to Sanctuary where we did the Grind Date album, we couldn't turn around and say, "Take this AOI 3 instrumental album." No one wanted what we started with Tommy Boy; they wanted their own thing. It just became something we kept putting on the back burner. We got a bunch of stuff for it. But hopefully one day we'll be like, "Let's do this. Let's throw it out there."
Mic: Anything else you want to share?
Pos: Definitely. The new album is called And the Anonymous Nobody. It's standing behind that person who want to make a difference and decided to stand up for some idea — or someone, or a bunch of people — but be anonymous about it. Not for the fact of just standing up for someone for some notoriety. So that's where we come from on this particular new title. So anyone who hadn't heard about the campaign and is just hearing about it for the first time, check the Kickstarter. And just, please, be a part of listening to good music. And giving all music a chance — and, God willing, our new album a chance as well.