This Former Ferguson Official Compared a Racist Email Controversy to "Being Raped"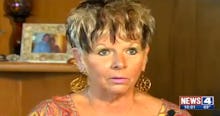 Intense public scrutiny will never amount to the dehumanizing experience of being raped.
It's the unfortunate parallel made by former Ferguson court clerk Mary Ann Twitty, who was fired in the fallout of racist emails unearthed in the damning Department of Justice report released in March. Twitty told KMOV she received death threats after her emails were made public, and said she was an unlikely scapegoat for something other government officials also did.
"It took me a while to get over the feeling of being raped and being thrown under the bus," Twitty told KMOV. "I'm human, I meant nothing bad by it."
Twitty's remarks show that she's learned nothing from the public pushback. In case anyone needs a reminder, here's a sample of the types of emails Twitty got a kick out of circulating to other law enforcement officials — the backlash against which informed her "rape" analogy:
An unfortunate comparison. In addition to dodging accountability for racist behavior, Twitty flippantly likened being fired and the public scrutiny she faced to the act of sexual assault. 
Twitty also insisted that she shared the emails just for the laughs, and it wasn't related to race. "I don't want people to look at me and say 'she sent those racist jokes out because she's racist or biased.' I am not," Twitty told KMOV. 
Rape is rape, not casual slang. The remark completely mischaracterizes the actual meaning of rape by drawing an unnecessary analogy. Throwing the term around as casual slang belittles a crime for which justice usually isn't served. It also disrespects sexual violence survivors, many of whom already have a hard enough time being believed when they share their stories. 
As Amelia Shroyer, a survivor of sexual assault, wrote at Luna Luna about hearing "rape" as slang: "Rape is rape, period. The act itself makes it enough of a dirty word. In the battle to end sexual assault, we need to recognize our own complacence with rape culture, and work diligently to change it. Language is a small step, but a profound one.
"Be an ally to survivors. Expand your vocabulary."